Star Trek's George Takei 'Fired' From Celebrity Apprentice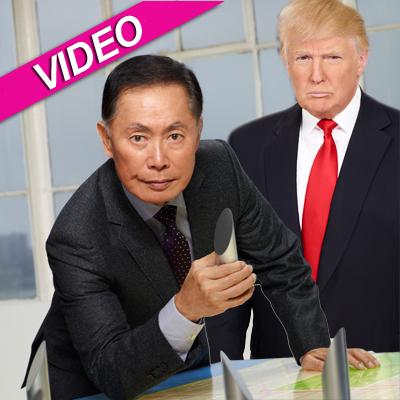 Oh my!
George Takei was beamed off the cast of Celebrity Apprentice Sunday, as the Star Trek icon's mismanagement as leader of this week's fashion-geared enterprise left him as the odd man out.
The task was to create a living display for Ivanka Trump's clothing line, which would be featured at the high-end retailer Lord & Taylor. Ex-Miss Universe Dayana Mendoza led the women's team, while Takei took the reigns for the gents.
Article continues below advertisement
"We will boldly go where no man has gone before," Mr. Sulu pledged to Donald Trump.
Gay Director Reveals Traumatic Teenage Experience That Inspired New Film
And if George thought he'd had his problems with William Shatner, he found a new adversary in ex-American Idol Clay Aiken, who nitpicked his performance throughout the project, setting him up as a sacrificial lamb.
"I'm not 100 percent sure that George is aware of what's going on all the time," Aiken said of the 74-year-old star.
Eventually, the women's team came through, leaving Takei, Incredible Hulk star Lou Ferrigno and 90s late-night host Arsenio Hall before Trump, pleading their case.
Takei stepped up, admitting his work might have doomed the project, and getting the heave-ho from The Donald. The actor, a noted voice in the fight for same-sex marriage, said he was upset he let down his charity of choice, the Japanese American National Museum.
MORE ON:
Celebrity Apprentice
Article continues below advertisement
The Most Surprising 3-Minute Wedding You'll Ever See!
The remaining stars in the running for this year's crown are, in alphabetical order: Mendoza, Aiken, Ferrigno, race-car driving icon Michael Andretti, funnyman Adam Carolla, Wayne's World star Tia Carrere, 80s sensation Debbie Gibson, Real Housewives of New Jersey star Teresa Guidice, 90s late-night host Arsenio Hall, comic Penn Jillette, Lampanelli, Making the Band's Aubrey O'Day, American Chopper's Paul Teutal, Twisted Sister singer Dee Snider, and model Patricia Velasquez.