Celebrity Apprentice: Lisa Lampanelli & Victoria Gotti Clash, Leaving One Eliminated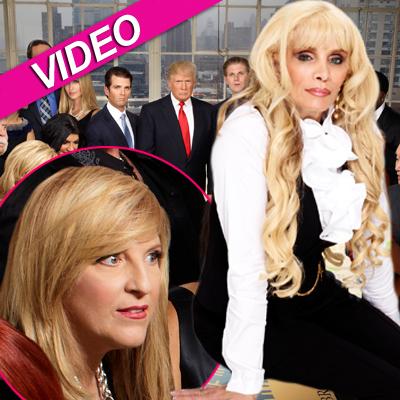 Reality star Victoria Gotti was eliminated on Sunday's edition of Celebrity Apprentice, as the 49-year-old Growing Up Gotti star showed too many shortcomings in a challenge to raise money putting on a show for the knight-themed dinner theater, Medieval Times.
Gotti, who was almost eliminated last week (the honors went to model Cheryl Tiegs, instead) didn't help her own cause by frequently clashing with her supervisor in the project, comic Lisa Lampanelli, who dubbed Gotti's efforts in the fundraising exercise "useless."
Article continues below advertisement
Gotti didn't show herself to be the greatest speller either, spelling Medieval "Mid-Evil" on a Google search. Things got particularly tense when an exhausted Lampanelli demoted Gotti to the team's creative director, to which Gotti threatened to jump to the men's side.
John Travolta Meets John Gotti's Widow, Victoria, As He Preps For Movie Role
In a close battle, the men edged the women, leaving another member of the fairer sex ripe for elimination in the board meeting, where Lampanelli said she didn't want to play mom to Gotti, who was fired by The Donald for the collective missteps in the episode.
"I've never felt more unneeded or unwanted in my life ever," Gotti said. "What I just witnessed in that boardroom terribly shocked me."
The bad blood apparently is here to stay, as Gotti later told the Huffington Post: "It was bad, I'm telling you, I would have rather taken eight Star Jones than one Lisa Lampanelli. I think everyone on that show would agree with me. She wanted this at all costs and let everyone know it."
Article continues below advertisement
VIDEO: Country Singer John Rich Wins Celebrity Apprentice
The remaining stars in the running for this year's crown are, in alphabetical order: American Idol Clay Aiken, race-car driver Marco Andretti, funnyman Adam Carolla, Wayne's World star Tia Carrere, Incredible Hulk star Lou Ferrigno, 80s sensation Debbie Gibson, Real Housewives of New Jersey star Teresa Guidice, 90s late-night host Arsenio Hall, comic Penn Jillette, Lampanelli Making the Band's Aubrey O'Day, American Chopper's Paul Teutal, ex-Miss Universe Dayana Mendoza, Twisted Sister singer Dee Snider, Star Trek legend George Takei and model Patricia Velasquez.