Tia Carrere Fired On Celebrity Apprentice After Viral Ad Folly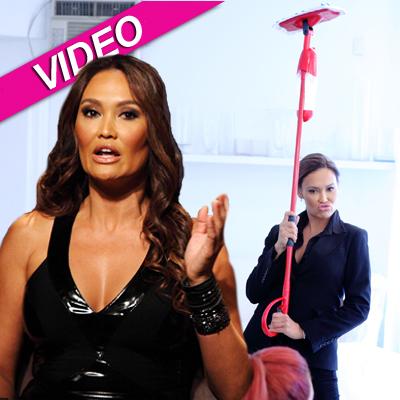 By Adam S. Levy - RadarOnline.com Staff Writer
It wouldn't be the Celebrity Apprentice we've come to love if there wasn't plenty of infighting, backstabbing and throwing under the bus. On Sunday's edition, viewers got a healthy dose of all of the above, as gorgeous Wayne's World star Tia Carrere made herself the sacrificial lamb after misleading her team in the task of creating an ad that'd go viral.
The challenge was to make a viral video advertisement for the O-Cedar ProMist Spray Mop: the men went with a spot capitalizing on the brawny image and comic timing of project manager Lou Ferrigno, TV's former Incredible Hulk.
Article continues below advertisement
The women went with a double-entendre campaign under the catchphrase, "What's your number?" -- with the joke being the ladies purring about how many mops they've owned in their lives.
The infighting was an issue on both sides, as members of the women's team had split into distinct factions, as some were not comfortable with the theme of the spot, or Carrere's ability to manage the crew.
Trouble brewed between the guys, most notably with comic Penn Jillette and singer Clay Aiken, as the American Idol star called out Jillette for what he thought was internal sabotage.
Aiken said, "I feel like there are people in this room who are setting Lou up to fail ... I never dislike anyone, but with Penn when I try to find a silver lining, I can't."
Watch the video on RadarOnline.com
Said Jillette in regards to Aiken: "People have always dealt with me in a slightly condescending way; I have never felt more set up in my life, and I'm very worried about it."
Despite the bad blood on both sides, someone had to win, and it was the men's team, setting up the ladies to toss around the corporate hot potato, which fell straight into the lap of Carrere.
Article continues below advertisement
Teammate Aubrey O'Day said Carrere "has twenty-something years of experience on me ... I'm overshadowing her at 27. That's a problem. You should fire Tia because she's project manager."
Carerre -- taking a cue from past eliminated contestant Adam Carolla -- initiated her own exit.
"Unfortunately I know as project manager, my head is on the chopping block," she said, asking The Donald, "If I throw myself on the knife… will you fire another person on the team as well?'
After he said he wouldn't, she surrendered.
"OK, then I have to take responsibility," she said.
"Then Tia, you're fired," Trump told her. "Thank you very much. Go ahead. Get out."
The remaining stars in the running for this year's crown are, in alphabetical order: ex-Miss Universe Dayana Mendoza, Aiken, Ferrigno, 80s sensation Debbie Gibson, Real Housewives of New Jersey star Teresa Guidice, 90s late-night host Arsenio Hall, comic Penn Jillette, comic Lisa Lampanelli, Making the Band's Aubrey O'Day, American Chopper's Paul Teutal, Twisted Sister singer Dee Snider, and model Patricia Velasquez.