Olivia Culpo Of Rhode Island Crowned Miss USA After Answering 'Transgender' Question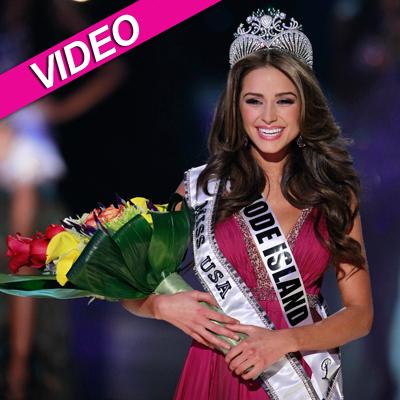 Cranston, Rhode Island stunner Olivia Culpo won the title of Miss USA 2012 Sunday in Las Vegas.
Culpo, 20, is a sophomore at Boston University, where she makes regular appearances on the Dean's List. She also plays the Cello.
At one point, she was asked her thoughts on the Miss Universe entry of Jenna Talackova, the transgendered Canadian beauty who was initially turned away from the competition, but later let back in.
Article continues below advertisement
Judge Rob Kardashian, citing a question from Twitter, asked Culpo: "Would you feel it would be fair that a transgender woman wins the Miss USA title over a natural-born woman?"
She responded, "I do think that would be fair, but I could understand how people could be apprehensive to take that road. However, there are so many people who have a need to change for a happier life.
"I do accept that because I believe it's a free country," said Culpo, who is set to represent the U.S. at December's Miss Universe pageant. "This is a free country and to each their own."
Watch the video on RadarOnline.com
Nana Meriwether, Miss Maryland, was the runner-up.
Stars such as Rob Kardashian, Joe Jonas, Chef Cat Cora, Arsenio Hall, Mary Lou Henner and Ali Fedotowsky were among the judges Sunday.