Second Miss USA Contestant Claims Results Were Rigged!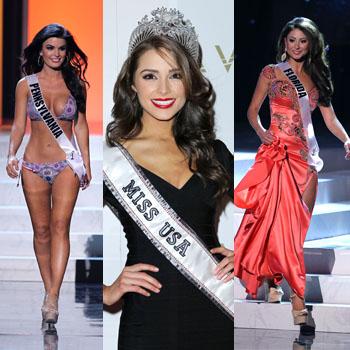 By Alexis Tereszcuk - RadarOnline.com Entertainment Editor
A second Miss USA contestant is claiming that she too heard that the pageant's final 15 girls were chosen before the show aired!
The contestant, who chose to remain anonymous, said she heard Miss Florida Karina Brez saying who the finalists were before the Top 15 were announced during the live broadcast.
"I saw Florida backstage and she was very, very flustered and upset. I thought it might be because she didn't make the top 15 cut, but at that point she was able to reveal to me at least four of the five names who went on to be the top girls," the contestant told Hollie McKay from Fox News.
Article continues below advertisement
"She couldn't remember the fifth because she was so upset. Several of the girls then started hearing through the grapevine about a list; a lot of people were upset."
Miss Pennsylvania Sheena Monnin originally accused Donald Trump's Miss USA pageant of fixing the competition, saying that Miss Florida has seen the list of the top five finalists hours before the show started.
"Apparently the morning of June 3rd Brez saw a folder lying open to a page that said 'FINAL SHOW Telecast, June 3, 2012' and she saw the places for Top 5 already filled in," Monnin wrote on her Facebook page. "After the Top 16 were called and we were standing backstage she hesitantly said to me and another contestant that she knew who the Top 5 were. I said 'who do you think they will be?' She said that she didn't 'think' she 'knew' because she saw the list that morning. She relayed whose names were on the list. Then we agreed to wait and see if that was indeed the Top 5 called that night. After it was indeed the Top 5 I knew the show must be rigged."
"I feel an injustice has been done, not only to the other people who were not in the top five, but to the thousands of pageant girls across the country who competed, believing this is an honest system," Monnin then told Today last week.
Miss Florida has adamantly denied the allegations that she actually saw the list of finalists, saying in a statement: "Backstage during the pageant, I did see a piece of paper with names on it and like most people in such frenetic circumstances, joked that they must be the names of the final contestants, It was a throwaway comment, in the stress of the pageant, and was never meant as fact. The list I saw didn't even have the eventual winner on it."
Article continues below advertisement
Monnin told Today she believes Brez changed her story out of fear. According to Fox News, "the contestant we spoke to said some fellow beauty contestants are also upset by the way Monnin has been treated by Trump and the pageant.
"A lot of the girls now are very upset about how Pennsylvania is being treated and aggressively attacked by an organization that claims to empower women," she said, adding that other potential witnesses are afraid to speak out given the threats of lawsuits and further trouble. "But if they had to testify in court, I'm sure the girls would do it."