The Biggest Loser! How Oprah Dropped 25 Pounds In 6 Weeks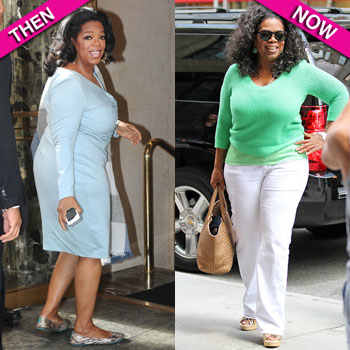 No stranger to yo-yo dieting, it appears that Oprah Winfrey is on a losing – or should we say winning – streak with weight loss!
The 58-year-old has lost a whopping 25 pounds in only 6 weeks with the help of a new chef and the treadmill, reports The National Enquirer – and RadarOnline.com has the details about all of her latest weight loss secrets.
After packing on the pounds since launching OWN last year, Oprah turned to the network's creative staff to develop an effective diet and workout plan for her – which included hiring a new Hollywood chef to prepare three portion-controlled meals a day – and workouts on the treadmill with her longtime trainer Bob Greene.
Article continues below advertisement
"Oprah has absolutely flipped for the new chef," a source dished to The Enquirer, who is having the talk show host eat combinations of food to generate energy.
"The personalized diet Oprah's been following uses a combination of fruits and vegetables, fish, chicken and lean meat. It's low in fat and calories but still leaves her feeling full."
As RadarOnline.com previously reported, Oprah, whose weight has been fluctuating her entire career, recently revealed the hardships she has faced since creating her own network, which the source claims is the culprit of her most recent weight gain.
"The idea of creating a network was something that I wanted to do. Had I known that it was this difficult, I might have done something else," Winfrey said on The Early Show in April 2012. "I didn't think it was going to be easy, but if I knew then what I know now, I might have made different choices."
But according to the source, Oprah is finally ready to drop the weight.
"Deep down Oprah knew she had the willpower to lose it again if she took the right approach and she's finally found a plan she really likes.
MORE ON:
National Enquirer
Article continues below advertisement