756 Pound Woman Marrying Chef In Bid To Become World's Fattest Person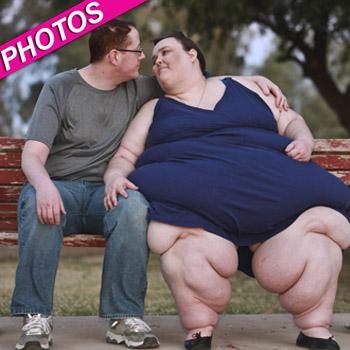 Article continues below advertisement
"A previous record holder was 1,610 so I have to be at least that. At my current rate of growth, I should be there by age 41 or 42," explained the mother-of-two.
While many people suffer from bad body image issues when they gain weight, Eman – who by chomping down 22,000 calories at day, consumes 11 times the recommended amount for a woman of her age - claims it makes her feel sexy, and even makes her more attractive to men!
"The more weight I put on the better I felt, and the more confidence I seemed to gain," Susanne wrote on her blog. "I began to change the way I did things according to my weight.
"I began to eat just a bit more each day than the previous day. Before I knew it I was 700. I'm still very healthy, very mobile, and active. I'm looking forward to pushing the limits and seeing just how fat I can get."
Eman's loyal, loving 38-year-old fiancé supports her quest to pile on the pounds by whipping up her favorite treats in the kitchen, such as mammoth fried breakfasts of bacon and scrambled eggs, fried potatoes and huge slices of toast.
MORE ON:
Sexiest Bodies Hollywood
Article continues below advertisement
"I support her because it makes her happy, and I love big women," said the high calorie culinary genius, much to the delight of Eman.
"It's a perfect pairing. I still want to be the fattest woman in the world and Parker is fine with that," she said.
"I love marching to my own beat and thinking outside of the box. Not that there would be a box big enough to put me in either size wise or relating to my personality!" she joked. "Being this fat has given me a feeling of total freedom and not only self acceptance but confidence."