US Student Fighting For His Life After "Frenzied Assault" By Chimps At Jane Goodall Institute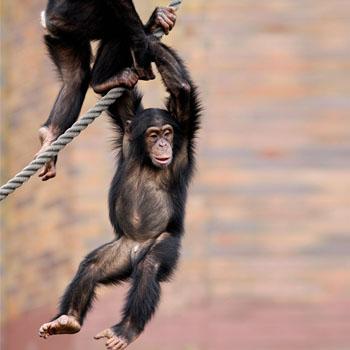 By Debbie Emery - RadarOnline.com Reporter
A University of Texas student who has been studying chimpanzee behavior at Jane Goodall's South African reserve is fighting for his life after two of the animals viciously attacked him in a frenzied assault.
Andrew Oberle, 26, had been leading a tour group around the park and was standing close to a fence when he was dragged under it by the aggressive pair of primates, named Mickey and Amadeus, and then pulled almost a mile into their enclosure, reported the Telegraph, where he was eventually rescued by paramedics with armed escorts.
Article continues below advertisement
Located near the city of Nelspruit in eastern South Africa, the Jane Goodall Institute Chimp Eden was established six years ago to rehabilitate chimpanzees rescued from circuses, zoos and the bushmeat trade across Africa, and it currently houses 33 animals in large enclosures.
"We understand that the gentleman is stable and we really feel for him. This has been very upsetting for everyone – it is just horrific. We are an organisation that's respected worldwide for the work we do so anything like this is very bad," said Jane Goodall Institute executive director, David Oosthuizen, explaining that because of the abuse suffered by the animals before they were rescued, everyone at the reserve was cautious around them.