Blinded Chimp Attack Victim Will Get Her Day In Court, Suing State Of Connecticut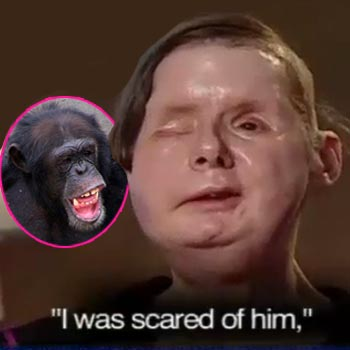 By Debbie Emery - RadarOnline.com Reporter
The severely disfigured woman who was blinded in a vicious 2009 attack by a neighbor's pet chimpanzee is one step closer to justice now that a hearing has been set in her lawsuit against the state.
An oral hearing has been scheduled for August 10 to decide whether Connecticut can be sued for $150 million in damages by Charla Nash, whose attorneys filed new documents on Wednesday they claim prove the state was negligent in not removing the animal from her friend's home years before the horrific attack.
Article continues below advertisement
As RadarOnline.com previously reported, the 56-year-old from Stamford underwent a full face transplant in May 2011 in a 20-hour reconstructive surgery that she says gave her "a life back" for the first time since neighbor Sandra Herold's chimp Travis turned on her two years earlier.
An attempt to give her a new pair of hands sadly failed and the transplanted hands were subsequently removed, she also lost her sight in the attack.
Her lawyers have described her as "a traumatically injured woman" who was a victim of the neglect from the Department of Energy and Environmental Protection and accused them of ignoring warnings from residents that the animal was a risk, even after it escaped in 2003.
Attorney Charles Willinger said that officials at the Connecticut Department of Energy and Environmental Protection discussed in emails whether to send police officers to remove the chimp from Herold's home, but determined the animal was too dangerous for removal and nothing was ultimately done about it despite a memo describing Travis as "an accident waiting to happen."
Article continues below advertisement