Montana Man Trying To Pull Off 'Bigfoot' Hoax Run Over And Killed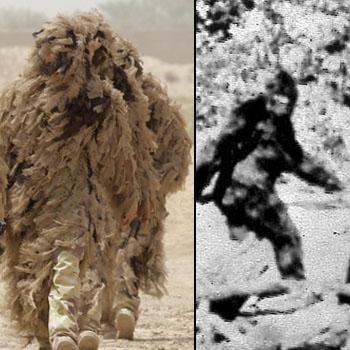 By Debbie Emery - RadarOnline.com Reporter
A Montana man's practical joke went very wrong when he tried to trick passing motorists into believing he was Bigfoot.
Randy Lee Tenley, 44, dressed up in a military-style 'Ghillie suit' and walked down Highway 93 in Kalispell, Montana, on Sunday night where he was struck by two cars, one of which was driven by a 15-year-old girl.
During the bizarre Sasquatch-themed stunt, both the young drivers had just rounded a bend at around 10:30 p.m. and could not avoid hitting the prankster, reported the Missoulian.
Article continues below advertisement
Tenley suffered massive trauma and died at the scene, according to Montana Highway Patrol Trooper Jim Schneider.
"The camouflage suit was dark and subdued. It's designed to break up a silhouette and blend in with your surroundings," explained Schneider, adding that the suit has strips of burlap designed to replicate leaves and foliage. "It definitely hindered the ability of people to see him on the highway."
According to folklore, the legendary ape-like creature is believed by some to live in the forests of the Pacific Northwest, where he lumbers around covered in brown or reddish hair and weighing in at around 500 pounds. While there has never been any evidence to prove that Bigfoot really exists, even famous anthropologist Jane Goodall has expressed the belief in the mythical creature.
Investigators are at a loss over the motive of the random dress-up act, they believe alcohol was involved but do not yet know if the Bigfoot wannabe was drunk at the time. Neither of the drivers had been drinking before they struck him.
Article continues below advertisement