Texas Mayor Killed In Aggressive 500-Pound Donkey Attack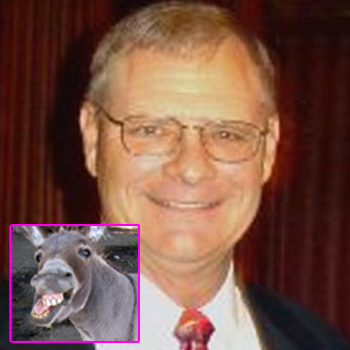 By Debbie Emery - RadarOnline.com Reporter
A Texas mayor has been found dead on his ranch after being attacked by an angry male donkey, according to police.
Hollywood Park Mayor William "Bill" Bohlke was killed when the 500-pound animal turned on him on Monday at the Atascosa County ranch, but it is not yet known whether he was kicked or trampled to death, reported the San Antonio Express-News.
"They can become very aggressive, very mean, sometimes triggered by a female in heat," said Atascosa County Chief Deputy David Soward. "We'll probably never know what triggered it, but it was evident that this particular donkey was involved, based on the evidence at the scene and what we saw on this donkey."
Article continues below advertisement
According to a statement from the victim's family: "Bill suffered a fatal injury while taking care of his prized cow herd near Pleasanton. Bill, your mayor, dearly loved serving you, our community, and we only wish he was here to continue doing so."
Vietnam war veteran Bohlke's truck was found about 50 yards away from his body with the door open and the engine running, investigators believe he was killed between 10 a.m. and noon. He is survived by his wife, Tonia, two sons and a daughter.
The stud donkey, which is said to be an average size, remains on the ranch while the family decides what to do with him.
Despite a saying that claims, "More people are killed by donkeys than in airline crashes each year," death by donkey is a very rare phenomenon, according to the American Donkey And Mule Society, which claims that although there have been attacks by donkeys, there have been no reports of donkey fatalities in the USA before.