Exclusive
'HBO Was Murdering Horses,' Says PETA, As Luck Is Cancelled Following A Third Horse Death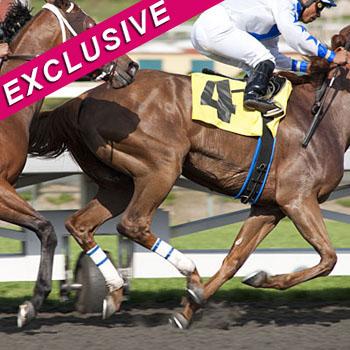 By Debbie Emery - RadarOnline.com Reporter
The death of a third horse on the set of HBO's racing drama Luck has brought filming to a screeching halt and the cancellation of the series, and now RadarOnline.com can exclusively reveal that a spokesperson from PETA predicted there would be another fatality and pleaded with the network to change their safety policy but her request was ignored.
The latest tragedy occurred when the thoroughbred reared and fell back on its way to a racetrack stable on Tuesday at the famous Santa Anita, California racecourse where the show was filmed and the horse was later euthanized, leading HBO to announce on Wednesday that the network is now cancelling the show.
Article continues below advertisement
EXCLUSIVE DOCUMENTS: Read The Autopsy Results For The Horses Who Died On The Luck Set
"It is with heartbreak that executive producers David Milch and Michael Mann together with HBO have decided to cease all future production on the series Luck," said a statement e-mailed to RadarOnline.com from a HBO spokesperson.
"Safety is always of paramount concern. We maintained the highest safety standards throughout production, higher in fact than any protocols existing in horseracing anywhere with many fewer incidents than occur in racing or than befall horses normally in barns at night or pastures.
"While we maintained the highest safety standards possible, accidents unfortunately happen and it is impossible to guarantee they won't in the future. Accordingly, we have reached this difficult decision."
In an exclusive interview with RadarOnline.com, just minutes before the HBO's surprising announcement, PETA vice president and equine specialist Kathy Guillermo revealed that numerous sources close to the production had called her over recent weeks predicting that there would be more blood shed at the race track.
Article continues below advertisement
"I am furious with HBO - putting old, unfit horses on a track is murder," she passionately told RadarOnline.com.
"There were licensed humane officers on the set who feared there would be another death because the horses used were all older and out of shape," explained Guillermo, who had initially demanded an investigation in February after the first killings were brought to light.
"These were the same insiders who guided us to finding out what happened during the filming of the first season when two horses died," she revealed. "And everything they said was true. I still suspect there was another death last year but that has never been confirmed."
While HBO say American Humane Association safety representatives were on hand during filming, it is the age and health of the horses that were hired as equine cast members that most concerned PETA, as revealed by the exclusive medical documents acquired by RadarOnline.com.
"When you look at the necropsy (animal autopsy) reports for these horses (aged five and eight), there is no reasons for them to be anywhere near a race track," said Guillermo.
Article continues below advertisement
"One had degenerative arthritis and another was heavily drugged and four forms of potent drugs were found in its system. The lone reason they would give a horse anti-inflammatory drugs is that it is unfit to run," she explained.
"These are retired racehorses, they are born to run and when they get to a starting gate they don't know it is a TV show – they run and they were not in physical condition to do that.
"Both the horses who died on the first season were run on the same day, but these horses should not have been running at all," Guillermo claimed.
A letter, acquired by RadarOnline.com, was sent to HBO by PETA on March 13 asking them to change their policies, and Guillermo also drafted a legal complaint that she submitted to the district attorney when she heard about the third confirmed death.
Sadly, it took the loss of another beautiful animal to get a reaction from the network.
Article continues below advertisement
Read PETA's Letter To HBO
A statement released to RadarOnline.com by HBO detailed how the third horse fell to her death. "I had just examined the horse as part of our routine health and safety procedures prior to work that would be done later on the track," stated California Horse Racing Board (CHRB) official veterinarian Dr. Gary Beck.
"The horse was on her way back to the stall when she reared, flipped over backwards, and struck her head on the ground. Fortunately, attending veterinarian Dr. Heidi Agnic was there to administer immediate aid to the injured horse and determined that humane euthanasia was appropriate."
Meanwhile, after reading through the autopsy reports, an esteemed veterinarian has agreed with PETA and placed the blame for the horses' deaths firmly on HBO.
"My concerns are over who was conditioning and overseeing the training of the horses," equine veterinarian Eleanor Lenher, DVM revealed to RadarOnline.com.
"If they weren't using real horses in racing conditions on a track then they would need to be brought back to proper racing form, which is hard enough for the youngsters, and 5 and 8 is old for race horses.
Article continues below advertisement
PETA Wants To Turn OJ Simpson's House Into A 'Meat Is Murder' Museum