PETA Protests Liam Neeson And 'The Grey' After He Admits Eating Wolf Meat While Filming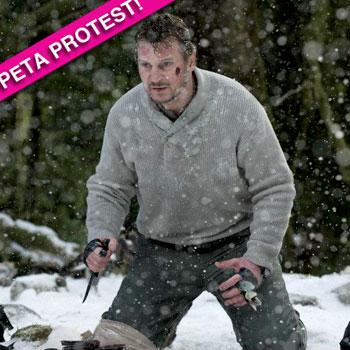 Liam Neeson's latest movie is facing a boycott after the actor admitted eating wolf stew to prepare for the role.
The Irish actor has the People for the Ethical Treatment of Animals up in arms over his method acting for The Grey in which he plays the leader of a group being hunted by wolves after their plane crashes in the Arctic.
"It was very gamey," he said while promoting the hit movie. "But I'm Irish, so I'm used to odd stews. I can take it. Just throw a lot of carrots and onions in there and I'll call it dinner."
Article continues below advertisement
Neeson, 59, further infuriated PETA by saying that while others got sick he "went up for seconds."
In a statement, the animal rights group said: "Neeson's stance on kindness to animals is sorely out of step with the rest of the world."
They then urged movie-goers: "Don't just shy away. Run away from The Grey."
While most of the wolf scenes were shot using special effects, PETA claims the film's director, Joe Carnahan, ordered wolf carcasses from a trapper for some of the footage.
"Many animals caught in traps chew off their own limbs in order to escape," said Jane Dollinger, a spokeswoman for PETA. "These animals go on to die of gangrene or other secondary infections, sometimes leaving nursing puppies abandoned to fend for themselves."
Despite the outrage The Grey has been a box office hit.
The film's producers declined to comment on the protests.
RELATED STORIES:
Lucky The Maltese Is Crowned Hollywood's Top Canine Star-Spotter