Lucky The Maltese Is Crowned Hollywood's Top Canine Star-Spotter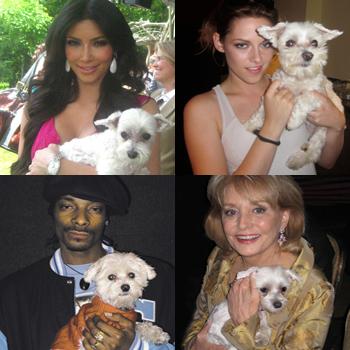 Star-spotting is a serious business for many movie fanatics and one furry fan has been blessed enough to pose with Hollywood's hottest celebrities and RadarOnline.com has photos of his exciting encounters.
Lucky the Maltese has bounded into the Guinness Book Of Records as the 'Animal Most Photographed with Celebrities' by boasting 363 photos posing with the rich and famous.
The little white dog with huge dark eyes has been snapped in the arms of the stars from Snoop Dogg and Kim Kardashian, to Sir Richard Branson and Barbara Walters.
Article continues below advertisement
Rescued by the editor of Animal Fair Media, Inc, Wendy Diamond, Lucky is the poster dog for animal rescue causes and travels with his owner to charity and political events.
The model-worthy Maltese even has his own column, Who Got Lucky? and a Facebook page with thousand of fans.
"I always thought Lucky was sort of the Johnny Carson of canines but I never imagined a Guinness World Record," said Diamond.