22 Show Horses Die In Horrifying Barn Fire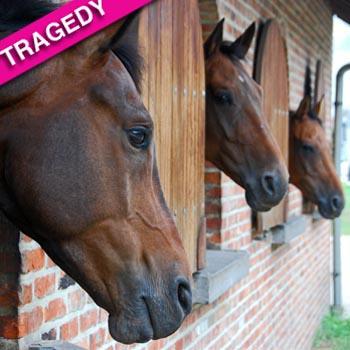 It took only minutes for 22 magnificent show horses to die in a barn fire Saturday.
The disaster took place at famed Heritage Acres in Lafayette, New Jersey.
A neighbor in the bucolic area saw the Heritage barn ablaze and awoke owners, Art and Betty Hahn, both in their 70s.
The roof on the football field-size barn collapsed before fire fighter arrived. "It burned right down to the ground," Art Hahn said.
Article continues below advertisement
The horses were all show winners, sent by their owners from around the country to be trained for jumping and dressage competitions all over the East Coast.
"I don't know if everyone understands the bond between horse people and a horses," trainer Marion Georgiev told The Star-Ledger. "There are so many thing you learn from them.
"They only care about how you treat them, and if you make a mistake they forgive you. And when you ride a horse, that bond grows even more because they allow you to do something you can't do yourself."