Mourning Madonna Badger 'Trying To Find Peace,' Says Family Member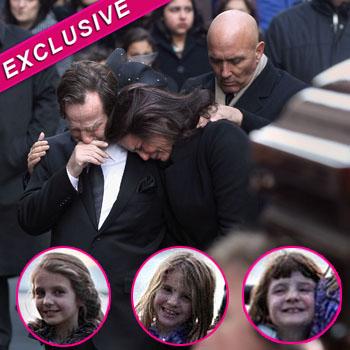 Article continues below advertisement
Three tiny caskets topped with white and pink floral arrangements for her daughters Lily, 10, and twins Grace and Sarah, 7 were carried into the church.
Badger's parents, Lomer, 71, and Pauline Johnson from Louisville, Kentucky, also perished in the blaze at her mansion in Stamford, Connecticut.
Madonna was supported at the funeral by her estranged husband, Matthew Badger, and a spokesperson for him told RadarOnline.com that it was "too soon to comment" on the devastating tragedy.
The accident occurred after the prominent New York businesswoman, who created the iconic Calvin Klein underwear ad with Mark Wahlberg, had been wrapping gifts by the fireplace with friend Michael Borcina until around 3 am. They reportedly then loaded the embers from the fireplace into a bucket and left it in the foyer before going to bed.
Investigators believe that is where the blaze started in the $1.7 million Victorian home that Madonna only moved into last year.
Article continues below advertisement
More than 500 mourners listened to Badger's moving eulogy, where she described the loss of her "girl tribe" and thanked well wishers for support.
"In all the incomprehensible loss and chaos, all I can hang on to is that love is everything," said Madonna.
Among the attendees were actor Philip Seymour Hoffman, fashion designers Calvin Klein and Vera Wang, and rocker Lou Reed.
Singer-songwriter Rufus Wainwright performed a haunting acappella version of Over the Rainbow during the service.