Yule Log Embers Blamed For Fire That Killed Madonna Badger's Three Kids And Her Parents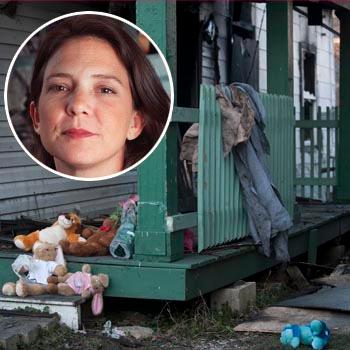 A blaze that ripped through a family's home on Christmas Day killing fashion executive Madonna Badger's three young children and her parents appears to have been the result of Yule log embers.
The prominent New York businesswoman, who created the iconic Calvin Klein underwear ad with Mark Wahlberg, had been wrapping gifts by the fireplace with Michael Borcina until around 3 am. They apparently then loaded the embers from the fireplace into a bucket and left it in the foyer before going to bed, an emergency worker told The New York Daily News.
Article continues below advertisement
Investigators believe that is where the blaze started in the $1.7 million Victorian home that Madonna only moved into last year. Borcina was the contractor for the renovations being undertaken on the Stamford waterfront estate.
Lily Badger, 10, and her seven-year-old twin sisters Sarah and Grace were killed and their grandparents Lomer, 71, and Pauline also perished in the tragic incident.
Lomer had valiantly tried to rescue his grandchildren by climbing onto a flat section of roof atop the three-story home and was close to getting one of the trapped children out but collapsed from carbon monoxide poisoning.
He was found buried underneath rubble just outside an open window which was near to where his granddaughter's body was located. The proud grandfather had dressed up as Santa Claus at Saks  Fifth Avenue this year to hand out gifts to children at the urging of his granddaughter Lily.
Neighbor and eye witness Charles Mangano told The Stamford Advocate he heard a man screaming for help as flames consumed the house shortly before dawn.
Article continues below advertisement
"They were both obviously in a state of shock," Mangano said. "He was in his boxers and a T-shirt, with no shoes. They were leading him up to an EMS truck. The woman said -- she was mumbling -- and she said, `my whole life is in there'."
The distraught Badger was seen fighting to get back inside the home to try and save her girls but she was eventually subdued and loaded onto a stretcher.
Badger has been released from hospital while Borcina remains in stable condition.