Madonna Badger's Three Kids & Parents Killed In Horrific Fire: Hear The 911 Call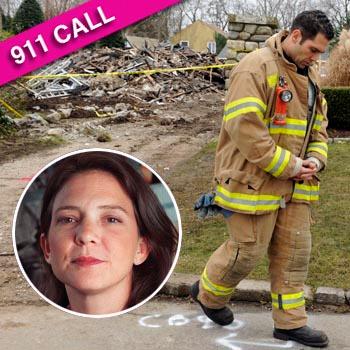 By Amber Goodhand - RadarOnline.com Reporter
New York fashion executive Madonna Badger's three children and parents were killed in a Christmas day fire that tore through her Stamford, Conn. home and RadarOnline.com has the numerous 911 calls that were placed to authorities.
"There's a huge fire at the house next door to us. The whole house is on fire," the first caller says in the 911 tape first obtained by the New York Post on Tuesday afternoon.
Article continues below advertisement
"There's three kids and a woman…"
As RadarOnline.com reported, investigators believe the blaze started from yule log embers that Badger and her boyfriend Michael Borcina placed in the back mud room in a bag, the fire marshal said.
Lily Badger, 10, and her seven-year-old twin sisters Sarah and Grace were killed along with their grandparents Lomer Johnson, 71, and Pauline Johnson in the tragic incident.
A press conference was held Tuesday afternoon in which Stamford Mayor Michael Pavia said, "What frustrates us the most is that despite the heroic efforts, five people lost their lives in this catastrophic blaze and there's no way we will ever change that."
According to Fire Chief Anthony Conte, the home passed initial housing inspections in July because it was under construction, but smoke detectors and/or fire alarm systems were only in certain areas of the house.
Article continues below advertisement
In an effort to save the children, Borcina led two of them downstairs to the second floor, "but the girls panicked. One obviously ran back up stairs the other went off in another direction, and he lost sight of them," Conte said.
"Mrs. Badger was helped down from the second floor roof" and told firefighters, who responded within six minutes, that the children were on the third floor.
Conte continued, "You have to understand that with the amount of heat and smoke how scared those children must've been."
Badger's father, Lomer, fell face first to his death from a second story window on the back of the house. One of his grandchildren was found on some books near the window where he fell from.
Fire officials believe Johnson had hoped to get out of the window, climb on some rafters that were there during a construction project on the house, and somehow grab the child so they could both make their escape.
Article continues below advertisement
While the first and third floors were permissible for legal occupation because of the construction, it was not made clear in the news conference whether or not the family had been occupying the second floor at all.
"After 37, 38 years on the job, you're never prepared for anything like this," Conte said.
"I had to recall 70 firefighters today for debriefing, and most of them broke down."
Listen to the 911 calls below: