Beauty Queen Eva Ekvall Loses 2-Year Battle With Cancer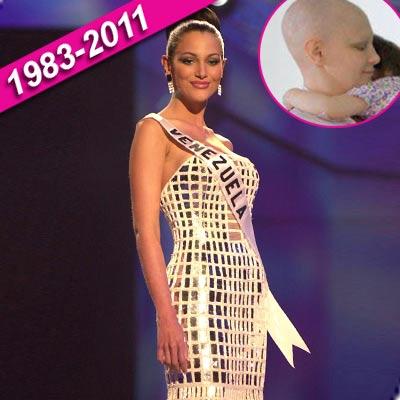 Sad news to report out of Houston, Texas, where Venezuelan beauty queen Eva Ekvall lost her valiant, two-year battle with breast cancer at a hospital on Saturday.
At just 17, Ekvall claimed the crown of Miss Venezuela in 2000, and came in as a third runner-up in the 2001 Miss Universe pageant in Puerto Rico. She also worked as a television news anchor for Venevision.
Ekvall was diagnosed with the disease in February 2010, and went through chemotherapy, radiation and a mastectomy. She documented her battle with cancer in her memoir Fuera de Foco (translates to "Out of Focus") in which she was pictured on the cover with a shaved head.
Article continues below advertisement
Ekvall told the El Nacional newspaper her aim in writing the book was to spread the "message of the need for cancer prevention."
"The pictures were very shocking because nobody had ever seen me that way. Nobody had seen me bald, without make-up," Ekvall said of the book. "In the beginning I wasn't sure if I looked good or not. Then I realized that wasn't the point. I wasn't supposed to look good, I had cancer.
"I hate to see photos in which I come out ugly. But you know what? Nobody ever said cancer is pretty or that I should look like Miss Venezuela when I have cancer."
Eva's book, and her openness about her disease, are credited with greatly increasing the number of women seeking breast examinations and in raising awareness of cancer in her home country.
Ekvall was cremated Monday, her family said, adding a formal service will be held in Venezuela in her memory.
Article continues below advertisement