Top Fashion Exec Madonna Badger Loses Three Kids And Her Parents In Mystery Fire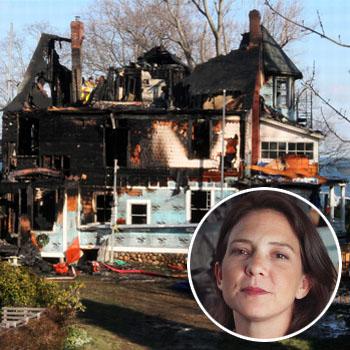 Madonna Badger, a prominent New York City advertising executive, lost her three children and her parents when her waterfront mansion went up in flames Christmas morning.
Badger, who created the iconic Mark Wahlberg underwear ads for Calvin Klein, and her friend, Michael Borcina, both escaped the blaze.
Badger bought the Stamford, Conn. waterfront estate just last year for $1.7 million. Borcina's construction company was renovating the home.
Article continues below advertisement
Stamford Police Sgt. Paul Guzda said Badger's three daughters, seven-year-old twins and a 10-year-old, all died in the fire. He confirmed that Badger's parents, who were visiting for the holiday, also died.
Stamford police officers notified Badger's estranged husband, Matthew Badger, of the tragedy and drove him to the scene from his apartment in Manhattan. The two split three years ago, and are in the process of getting divorced.
MORE ON:
Celebrity Justice
Neighbor and eye witness Charles Mangano told The Stamford Advocate he heard a man screaming for help as flames consumed the house shortly before dawn.
"They were both obviously in a state of shock," Mangano said. "He was in his boxers and a T-shirt, with no shoes. They were leading him up to an EMS truck. The woman said -- she was mumbling -- and she said, `my whole life is in there'."
Fire chief Antonio Conte said Monday morning it does not appear that the renovations were the cause of the fire
"With the condition of the building it will remain under investigation for a number of days until the fire marshal can get in," Conte said. "I would say it's a number of days before we actually find out how this occurred and what happened."
RELATED STORIES: