Chilling Firefighter Audio Tapes Released In Madonna Badger House Fire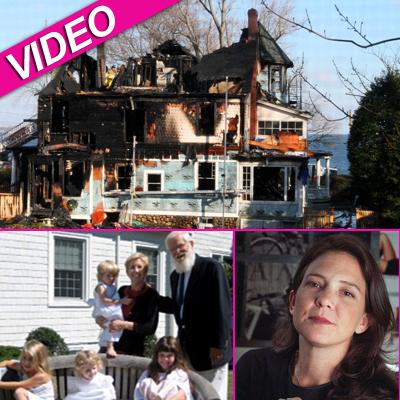 Radio transmissions between Stamford, Connecticut firefighters on the scene of the Christmas morning blaze that killed five family members of New York fashion executive Madonna Badger were released Thursday.
As RadarOnline.com has previously reported, the fire in the century-old Victorian house killed Lily Badger, 10; her 7-year-old twin sisters Sarah and Grace; and their grandparents Lomer Johnson (A Saks Fifth Avenue Santa Claus) and Pauline Johnson. All of the victims died from smoke inhalation, except for Lomer, who fell through the roof in a heroic effort to rescue his granddaughters.
Article continues below advertisement
"We got victims trapped on the second floor," one of the fireman can be heard saying on the radio tape. "We're going to rescue mode with the ladder ... heavy fire in the back of the building. we got a report from one of the victims there's people in that window.
"All right, but we're gonna need some protection up here, we got to get this line here -- we can't stay here," a firefighter tells a presumed supervisor, who tells him, "I hear ya, but we got to get in there though."
Later on the tape, a fire official calls off the search for people as the situation has become too dangerous for the firefighters to work in.
"Unit four, be advised number one floor looking up the two floors are compromised right through."
The deputy chief then says, "All units inside, back out! back out!"
According to NBC News, firefighters who fought the blaze have undergone counseling after the emotionally-charged event, and some reported they can't stop thinking about what they saw and experienced on the scene of the holiday tragedy.
Article continues below advertisement
Watch the video on RadarOnline.com
Investigators believe the blaze started from yule log embers that Badger and her boyfriend Michael Borcina placed in the back mud room in a bag; according to Fire Chief Anthony Conte, the home passed initial housing inspections in July because it was under construction, but smoke detectors and/or fire alarm systems were only in certain areas of the house. Authorities have said they believe the alarms were not activated in the incident.