I Had 3-Way with Kim Kardashian & Another Woman, Adult Film Star Says In First Video Interview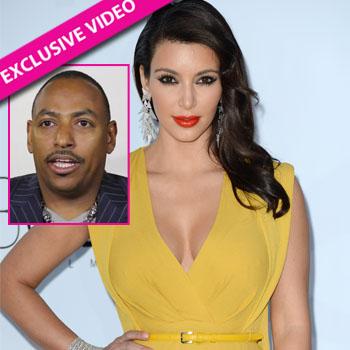 The porn actor who claimed he had sex with Kim Kardashian drops new details about his roll-in-the-hay with the reality TV star, admitting he couldn't get the tryst with Kim off his mind for years, even having been with many beautiful women before and after as part of his job.
As Star magazine exclusively reported, Julian St. Jox says he and Kim had sex in September of 2001 at a swinger sex party held at the Wyndham hotel in Culver City, California.
Article continues below advertisement
While she was married at the time to music producer Damon Thomas, it is not clear if he was her date to the party.
St. Jox was accompanied to the get-together -- he called it "an adult lifestyle party where couples come to meet, and they meet people who have like-minded interests" -- by porn star Emily Ann.
Watch the video on RadarOnline.com
He said after the couples had enjoyed romantic time with each other, "the girls got involved with each other, and then he got involved with Kim.
The veteran sex worker explained the chain of events: "I approached Kim and her date approached: I had sex with Kim, her date had sex with Emily Ann...pretty much a general swingers' swap.
"I've been with a few women in my lifetime and she stood out for a few years," St. Jox said. "She was a good l**, as you'd say."
St. Jox said that after Kim "became very famous, all I could say was, 'Lucky me, I got to have sex with someone famous.'
Article continues below advertisement
"What I find very interesting about the sex experience with Kim, was people are denying this occurred," St. Jox said. "It did occur -- it was a long time ago, it was before she was a celebrity. I didn't think a big deal of it. I didn't mean to destroy anyone's life, that was not my intention … a reporter called and asked me a question, I told the truth.
"I have nothing to lie about."
For more details, check out Star magazine, on sale now.