Kim Kardashian: I Think My Butt Looks Too Big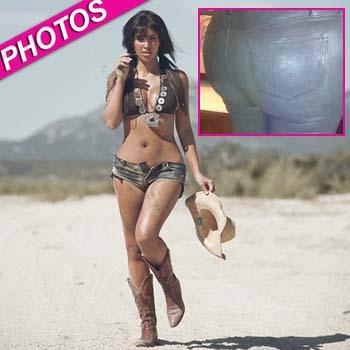 She's known for her curvy rear but now it seems that even Kim Kardashian worries her bottom is getting a little too big.
The reality TV star posted a photo on her Instagram page showing an extreme close-up of her butt and thighs, squeezed into a tight pair of pants.
The 31-year-old candidly wrote: "Ummm in a fitting w @MonicaRoseStyle I think my butt looks too big in these jeans."
However, if the Keeping Up With The Kardashians star is seriously worried about the size of her derriere her actions indicate otherwise.
Article continues below advertisement
Kim and her beau Kanye West have been spotted indulging in frozen yogurt more than a few times this summer, and Kim has posted a number of butt bearing bikini photos of late.
As RadarOnline.com previously reported the rapper is giving his girlfriend of four months a makeover.
In an upcoming episode of Keeping Up With The Kardashians the Watch The Throne star supervises as his stylist totally revamps Kim's wardrobe.
In a preview Kim says of her boyfriend: "He's a fashion designer and he loves clothes and I'm excited to collaborate with him to see what his take on fashion is...
"I feel it's so ironic that I'm the one that's always giving my friends their closet makeovers so for the roles to be reversed it's like: 'Oh my God'."
RELATED STORIES:
Kim Kardashian & Kanye West: No Sleeves, No Problem!