Kim Kardashian Goes Mad At Baby Shower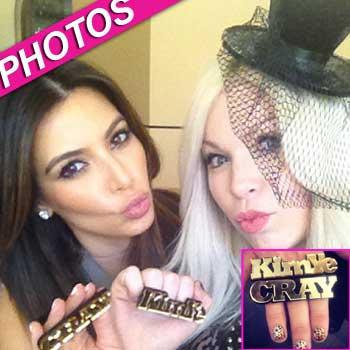 Earlier this week she channeled Diana Ross, and in a series of pictures obtained by RadarOnline.com on Saturday Kim Kardashian revealed her inner Mad Hatter.
The reality TV star shared some photos from an Alice In Wonderland-themed baby shower held in honor of her friend Joyce Bonelli.
The blonde celebrity make-up artist is the woman who collaborated with hair stylist Clyde Haygood to make Kim look like the legendary Diana Ross for a recent photo shoot.
Article continues below advertisement
But on Saturday ,the two women thrust themselves into the world of Lewis Carroll complete with playing cards, extra large Mad Hatter hats and cookies with clock faces.
Kim jokingly posted another photo on her instagram page with the make-up artist holding up Adam Mansbach cheeky book Go The F*ck To Sleep, which is aimed at parents.
The Keeping Up With The Kardashians star wrote: "She's going to be an amazing mom!!!! LOL"