Kanye West Gives Kim Kardashian A Style Makeover!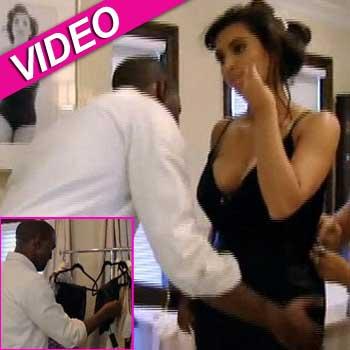 Her style has drastically changed since they started dating in April, and now Kim Kardashian fans know why: Kanye West.
The hip-hop fashion designer purged his girlfriend's closet, and RadarOnline.com has video evidence of when the rapper did the deed.
In a clip from Sunday's episode of Keeping Up With The Kardashians, West looks on as his stylist tosses her favorite outfits.
Kim tells the camera: "Kanye is coming over today with his stylist and he's giving me a full clothing makeover.
Article continues below advertisement
"Kanye has definitely inspired me to be a little more of an individual. I think my style's just evolving and changing...."
She also says: "He's a fashion designer and he loves clothes and I'm excited to collaborate with him to see what his take on fashion is…
"I feel it's so ironic that I'm the one that's always giving my friends their closet makeovers so for the roles to be reversed it's like: 'Oh my God'."
Watch the video on RadarOnline.com
In the footage Kim asks her boyfriend: "Is it so bad to keep things?" But the rapper tells her she has to "really clean out everything."
At one point he objects to one item that she wants to keep telling her: "Oh, hell no."
Kim and Kanye's shared love of fashion is no secret. In fact the reality star suggested to New York magazine that it is the glue that will keep them togethe.