Kim Kardashian Flashes The Flesh In Peek-A-Boo Outfit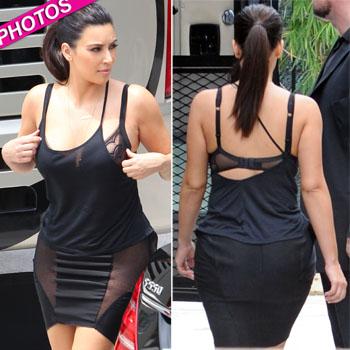 Kim Kardashian showed off the curves that wow Kanye West when she popped out with her rapper boyfriend in Miami on Sunday.
The 31-year-old wore a bizarre – but revealing – black outfit that included a top that barely covered her lacey bra and a tight-fitting skirt with mesh panels.
But a closer look at the Keeping Up with the Kardashian star's famous bottom revealed that the tight-fitting skirt had trouble containing her hips. The skirt rippled in some places, seemed to keep riding up her legs and the mesh struggled to stay attached to the black panels covering most of her thighs.
Article continues below advertisement
The reality TV star also tugged at the cotton top that barely covered her bra.
The racy ensemble didn't seem to bother the Watch The Throne hip-hop artist. Kanye held his girlfriend's hand as he led her through a crowd of fans into a studio.
On Sunday morning Kim posted another revealing photo on her Twitter account.
She uploaded a photo of herself on a boat wearing a black swimsuit with a plunging V-neck. The caption read: "Good morning Miami."