Kim Kardashian & Kanye West: Hot Couple, Frozen Yogurt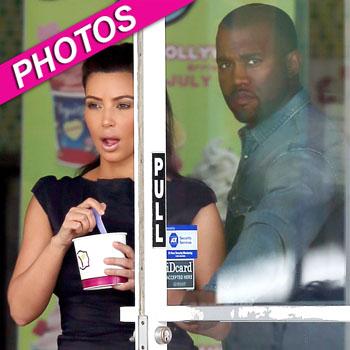 Kim Kardashian and boyfriend Kanye West fought off summer's dog days with some frozen yogurt in Hawaii on Monday, and we've got the photos for you on RadarOnline.com.
The 31-year-old reality star wore a sleek black dress and gold heels, while Kanye, 35, wore a dark denim shirt and jeans.
Kim, who has more than 15.8 million followers on Twitter, had an awkward run-in with a tweeter Monday who wrote at her, "RT or I'll kill myself .."
Article continues below advertisement
Kim replied, "Please don't kill yourself. Not cool to even joke around like that."
As we previously reported, the socialite waxed poetic to New York magazine this week about her long-term plans with the rapper.
"When this whole life is done, and it's just the two of us sitting somewhere when we're 80, you want to have things to talk about that you have in common," she said in regards to their mutual fondness of fashion. "I think that's something maybe I didn't value as highly as a quality I cared about in someone."