Burned Bear Cub Rescued From Wildfires 'Is Feisty And Eating Like A Pig!' Says Vet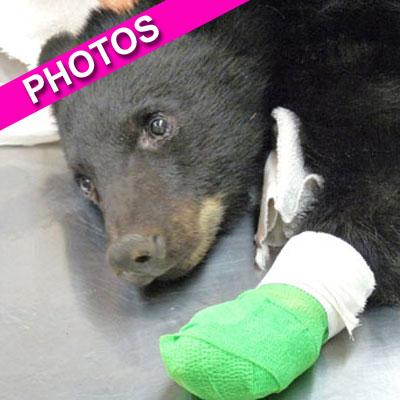 By Debbie Emery - RadarOnline.com Reporter
Boo Boo is one lucky bear!
The baby black bear is being nursed back to health after being rescued from the Mustang Fire that engulfed 250,000 acres near Salmon, Idaho.
With his badly burned paws carefully bandaged, the cub has won the hearts of animal lovers all over the country who have rallied to help pay his medical bills, but when he was first plucked from the flames officials didn't even think he would survive, reported KBOI2.com.
Article continues below advertisement
After weighing just 23 pounds when he was rescued on August 26, four-month-old Boo Boo is making leaps and bounds in his recovery. "He is eating like a little pig, very feisty, and not very social," said Dr. Jeff Rosenthal, director of the Idaho Humane Society. "He charges the cage front whenever anyone gets near, trying to scare us off.
"If his recovery continues at this pace, he could be ready to leave the Humane Society's care in as little as two weeks," explained the vet.
Boo Boo's huge appetite has now prompted his carers to ask for offerings of fruit instead of cash!
"The donations are very much appreciated, but what we really need now are berries of any kind, be they strawberries, blackberries, blueberries or whatever," explained Rosenthal. "But no more apples, please. We have enough donated apples to bake him an apple pie every day this month."
Now officials are hoping that the celebrity cub will serve as an effective real-life warning against wildfires. "When they see Boo Boo, they can see what can happen when fire gets out of control," Cyd Weiland with the Boise National Forest told CNN affiliate KTVB. "Having Boo Boo, having Smokey Bear, is a really good reminder to always be careful with fire."
Article continues below advertisement
After being driven down from the mountaintops by the fierce flames, the baby black bear was found desperately clinging to a tree on a trail when rescuers found him, with his foot pads so badly burned that he was forced to hobble painfully on them.
The executive director of the Idaho Humane Society said the bear will be treated by vets each day to make sure he heals, but they also have to make sure that Boo Boo doesn't get attached to those caring for him to ensure he can safely be returned to the wild.