Bitter Custody Battle Brewing Over Rescued Dog Abandoned On A Mountain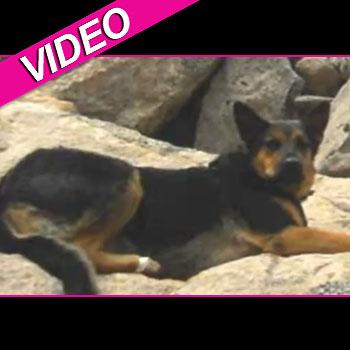 By Debbie Emery - RadarOnline.com Reporter
Just 10 days ago, Missy the German shepherd was stranded starving and alone on a Colorado mountainside, and now she has two people fighting to claim the right to be her owner.
A hiker on Mount Bierstadt spotted the dog stuck at about 13,000 feet elevation, but unable to get to her alone, he snapped a photograph and posted it on a website along with a message that she was stranded and injured, reported KSN.com.
Article continues below advertisement
His plea for help got a phenomenal response and by 5:30 am on August 6, eight men met at the trailhead and began the climb up Mt. Bierstadt to bring her down. "Just the thought of a dog being left up there, I mean I figured it is worth a chance to try to go find it," said Chase Lindell, one of the rescuers.
They finally spotted her at around 8 am on Sawtooth ridge, "The dog seemed really weak and it couldn't move much at all," explained Lindell. "And given the terrain there was no way the dog was walking out of there. So, we were able to get the dog into a backpack."
Missy was successfully carried down to safety and treated at a local vet for injuries to her paws and dehydration, but reports of her rescue on climbing website 14ers.com brought a new layer to the story.
Anthony Ortolani came forward and revealed that he was the shepherd's owner and had been hiking with Missy when her paws became blistered and were too sore for her to continue walking; he claims he tried to carry the dog off the mountain, but was unable.
Article continues below advertisement
When attempts to lower her with ropes were injuring the dog even more, and with a storm approaching he was forced to leave the dog behind. Once down to safety, Ortalani says he contacted a search and rescue group and the Sheriff's department, but was told it was too risky to send a rescue crew up for the dog.
It was a grueling eight days later after no food or water that Missy was finally rescued.
"I am at a complete loss of words. My gratitude for the people involved in this is without measure," Ortalani wrote on the site. "I humbly beg the forgiveness of the community and most of all my Missy Girl. Thank you all from the bottom of my heart."
"This does not sound like a black and white case to me," said Jennifer Edwards, an attorney and founder of the Animal Law Center. "This may be an animal welfare case, more than it is an animal legal case or property case. This is a case about an animal's welfare and it may come down to what are the best interests of what the dog's standard would be."
RELATED STORIES:
UnBEARably Cute! Playful Pandas Fly Belly-First Down A Slide