Exclusive
Best Friends Forever: The Real Story Behind The Heart-Breaking Image Of One Man & His Ailing Dog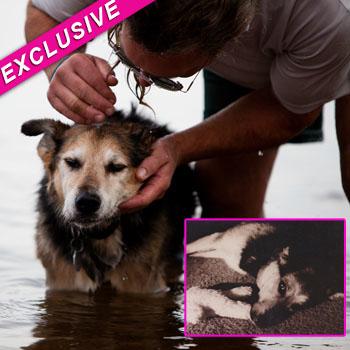 Article continues below advertisement
The 49-year-old farm caretaker adopted his dog, Schoep, when he was just a puppy, but after a staggering 19 years together, the aging shepherd mix is suffering from arthritis and has trouble sleeping, so the inseparable pair head to nearby Lake Superior so he can be lulled to sleep by the water.
"I knew the water relieved the pain, but didn't know to what extent it was helping at first. It takes all the pressure off the joints and he is just floating there and doesn't have any body weight," explained Unger.
"He immediately just zones out and is asleep as soon as he puts his head against my chest. I hold him with my right arm and then I will splash water on him and massage his joints – his feet, his shoulders, and his hips if I can. I have had him out there for over an hour but it is usually about 20 minutes."
The extra mile that Unger goes to for Schoep may surprise some people, but the devoted dog owner told RadarOnline.com that he owes his life to the pup who brought him back from the brink when he had dark thoughts of suicide.
Article continues below advertisement
"After a break-up with my then fiancee, I was going through a really bad time. I went down to the break water in Milwaukee at the marina, which is made of up of big boulders," he confessed. "I was thinking of ending my life, I had Schoep with me and we were down there quite a while. I decided it was time to do this, I was going to head dive into the rocks."
But one last look at his adopted pet made John rethink his fatal plan.
"When I was really at that moment to jump, he looked up at me with a look I've not seen since or before," explained Unger. "It was a look of concern, his eyes were squinted and his brow was scrunched, like a human does when they try to think really hard. It was quite amazing.
"It snapped me back to realty and made me think, 'I shouldn't be doing this... Who was going to care for this dog if I do this?'
Article continues below advertisement
"I had just rescued him a year before and I was not going to abandon him again by killing myself. He snapped me out of the frame of mind I was in."
The brush with death brought John and Schoep even closer together than before. "Everything had new and more meaning for us in every day. I made the commitment when I rescued him that I was doing it for life and to take care of him and I'm sticking to it."
The now-iconic photo of the inseparable pair was taken by close friend and photographer Hannah Stonehouse Hudson, owner of Stonehouse Photography. "I wanted to give him something to remember Schoep by after he has gone," she explained to RadarOnline.com, and she has been blown away by the response. "This is beyond anything that I imagined. I knew he had been taking him out to the lake and I was just going out as a friend as a favor."
Article continues below advertisement
Stonehouse Hudson said she believes the secret to the picture's universal appeal is its simplicity and the love that pours from it. "People can take whatever they needed from that photo and then and apply it their own lives," she explained. "It goes with any feeling of love, it's not just about dogs, it's about a spouse someone has lost or a friend or a bad time they went through."
As for Schoep, "He is doing great! I think he feels really good. He is not sick and he is not dying, he is just an old dog and has arthritis," she said.
"He's still really active, we do three walks a day and we swim as much as we can," Unger went on to say. "I take him to the berry farm and let him just be a dog when I can."
The pair is heading for their fourth laser treatment on Tuesday to ease the pain in the elderly shepherd's joints and donations have now been pouring in to help pay for his laser treatments to combat his arthritis. Prints can be bought at LakeSuperiorCards.com, and a portion of the proceeds will go towards vet bills.