Toddler Ballerinas Brawl On Stage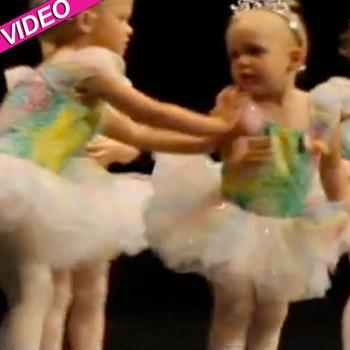 Talk about divas! Two toddler ballerinas got into a brawl on stage and had to be separated by their moms.
The girls were dressed in adorable tutus and tiaras, and things started well enough with the cuties twisting and twirling while Somewhere Over the Rainbow played in the background.
But then little Freya -- it was her mom who posted video of the battle on YouTube -- decided to push one of the other dancers, and she pushed back.
Article continues below advertisement
The slaps and hits, most of which missed their marks, goes on for almost a minute as the audience of parents erupts into laughter.
Then a couple of moms stepped in and took the two girls off the stage.
As one voice on the video asked, "is this a Black Swan prequel?"