Eden Wood's Rep Launches Pageant T-Shirt Collection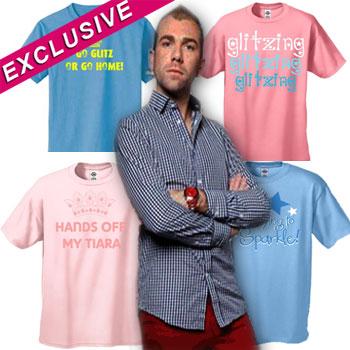 By Amber Goodhand - RadarOnline.com News Editor
You don't need to be on Toddlers & Tiaras to partake in the glitz and glam of pageants.
The man behind industry's most famous face, Eden Wood, is launching a t-shirt line with the tag line, Go Glitz Or Go Home!
Andrew Sullivan has been Eden's publicist since her rise to fame and wants to use the fashion line as a way to support and positively represent the industry.
Article continues below advertisement
"People think I hate pageants because of what they see on Eden's World. It is the farthest thing from the truth. I dislike crazy pageant moms, but that is completely different," Andrew told RadarOnline.com in an exclusive interview.
"These shirts are supposed to be a positive representation of the fun pageant world. They are not for the crazy psychos like the Barbie Mom or Tanning Mom, they are for the families that participate in pageants the RIGHT way."
Andrew exclusively reveals that Eden will also be launching a clothing line!
"For those fans of Eden, she also will be creating her own Eden Wood t-shirt collection over the next couple months! It will be far less aggressive than mine, but it will be all Eden, all the time," he said.
"I will be launching a brand new collection in July called Reality Royalty. I plan to build a reality TV empire with representation and products -- all built by the King of Reality."
Article continues below advertisement