Exclusive
Eden Woods' Rep Slams Human Barbie Mom: She's A 'Psychotic Piece Of Garbage!'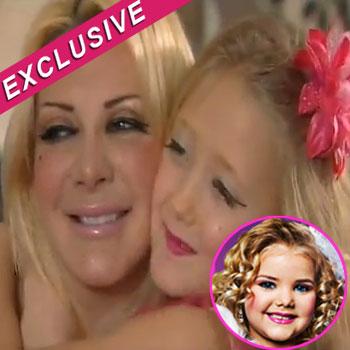 Article continues below advertisement
As previously reported, Sarah Burge, a single mom obsessed with cosmetic surgery, who gave her 7-year-old daughter thousands of dollars in vouchers for her own future plastic surgery procedures, is bringing her little girl to the United States to compete in beauty pageants.
Sarah has revealed that Poppy is preparing to storm the U.S. pageant scene, and that she has already spent thousands of dollars on training, travel, hair and makeup to get her daughter ready to beat Toddlers & Tiaras at their own game.
In preparation, the mother daughter duo posed for a shocking and outrageous photo shoot, where the 51-year-old cosmetically altered mother and her little girl are scantily clad in a variety of scandalous ensembles.
In the most unbelievable image, the duo is naked from the waist up, wearing only yellow crime scene tape wrapped around their torsos. Sarah wears fishnet garter thigh-highs with her tape, while her daughter pairs hers with black leggings.
Article continues below advertisement
But, if they hope to topple the reigning queen of pageants, they are in for quite some fight!
"This lady is a psychotic piece of garbage," Andrew Sullivan, Eden Wood's publicist exclusively told RadarOnline.com. "I really hope the USA government can remind this lady that in this country, we don't do stuff like that.
"Beat Toddlers & Tiaras at their own game? She is not going to win anything. First of all, Eden Wood is in a league of her own when it comes to press and business success. I have to deal with controversial Toddlers & Tiaras moms trying to steal Eden's success day by day. Now I have to deal with this doomed mess?
"Here is a message from me to Sarah Burge: 'Stay away from the U.S. pageant system. You and your antics are not welcome here and you will not be accepted with open arms. We have enough crazies that frequent our events now. Please stay across the Pond.
"I don't even agree with some of the moms who I currently have to co-exist with. Why do people think Eden got her own show? It is because her mother never tried anything crazy and let her daughter impress people herself.
Article continues below advertisement
"If Sarah Burge disagrees with me, she can call me. She is the reason why U.S. pageants have a bad name, and take this from someone who has lived the crazy pageant experience; we don't need you so stay away!"
Andrew Sullivan is the Self-Proclaimed King of Reality and Eden Wood's publicist who stars in LogoTV's Eden's World on Mondays at 10 p.m.
RELATED STORIES:
Move Over Eden Wood! British 'Human Barbie' Mom & Daughter Heading To U.S Pageants