Soldier Gets A Very Warm Welcome From Pining St. Bernard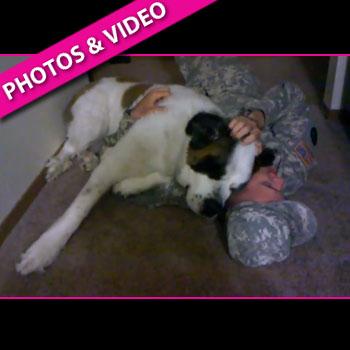 By Debbie Emery - RadarOnline.com Reporter
Nothing feels better when you get home from a long journey than a big warm hug, especially when the trip was to the front lines of Iraq and the hugger is a gigantic St. Bernard dog!
After whining and searching for him every day for a year while he was gone, Jasmine was so overwhelmed to see her owner when he returned from war that she bombarded the soldier with wet doggy kisses as soon as he walked in the door, and RadarOnline.com has video and photos of the heart warming reunion.
Article continues below advertisement
The canine love-fest was caught on camera by the soldier's wife who posted it September 11 on the website WelcomeHomeBlog, which celebrates the safe return of the armed forces through photos, videos and stories of emotional reunions.
"If there was a noise outside the door, she would rush over to it, and wait excitedly for him to walk inside," recalled the military family member who has remained anonymous. "But after a few minutes had passed, she would realize that he was not walking through that door, and she would walk away and continue to mope. This happened over and over, day after day. It just broke my heart to see her missing him as much as myself."
When the door opened and it was actually her daddy there, the huge brown and white hound couldn't hide her excitement! With St. Bernards weighing up to 260 pounds, Jasmine nearly bowls her beloved owner over as she runs up to him and collapses back in his arms like a fluffy child.
"She's talking to you," his wife can be heard saying in the background as the family pet grunts and wriggles in delight while getting hugs and belly scratches as she stood up on her back legs.
Article continues below advertisement
The reunion soon became too much for both parties as man and dog collapsed on the ground for a serious cuddle, where Jasmine crushed him with love and wet licks. "Did you miss me?" the delighted solider asks her as he's buried under her furry bulk.
"The day he returned to us was just nothing short of amazing. I got my initial greeting with him at the airport. So the dog got all the attention when he first arrived home," explained his wife. "As you can see in the video, she very much needed that time for herself.
"I'm glad I got it on camera to share with you all," she said.