Iraq War Veteran Dies After Saving Woman From Small Plane Crash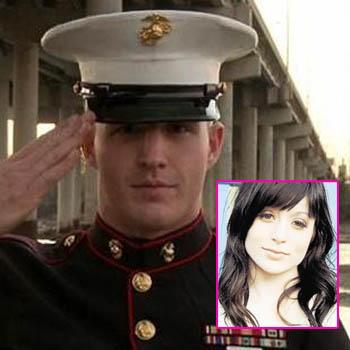 By Debbie Emery - RadarOnline.com Reporter
An Iraq war veteran who was an unexpected hero on Friday when he dragged a woman from the burning wreckage of a small plane and saved her life tragically died from his own injuries.
Former marine Austin Anderson was traveling in the eight-seater twin-engine Cessna 401 plane with Hannah Luce and three other friends when they crashed in rural Kansas shortly after taking off from Tulsa.
Article continues below advertisement
After her dramatic rescue, Luce is the sole survivor of the group of Oral Roberts University graduates who were heading to a Christian youth rally called Acquire the Fire, in Council Bluffs, Iowa, which was hosted by an organization founded by Luce's father.
Following the forced landing in a field, the plane skidded for 200 yards then hit several trees and burst into flames. Anderson, 27, managed to pull Hannah, 22, to safety and the pair walked down the road to get help, but the war vet later succumbed to the burns that covered 90 percent of his body at a Wichita hospital.
"I know Austin, he's that kind of guy," revealed Ron Luce, reported KMBC.com. "He served two tours in Iraq, and he was willing to give his life for his country. He was willing to give his life for a friend. He was always willing to go that extra mile."
When asked about her savior, Hannah "just began to tear up" and couldn't talk, said her dad. She is now in serious but stable condition at the University of Kansas Hospital, where on Monday she will undergo skin grafts for her burns.
Article continues below advertisement
Also killed were Luke Sheets, 23, of Ephraim, Wisconsin; Stephen Luth, 22, of Muscatine, Iowa; and former Oral Roberts University instructor Garrett Coble, 29, of Tulsa, Kansas.
Sheets, the pilot of the Cessna, was the son of a former Air Force pilot who now flies commercial jets.
"He had flown with his dad all of his life," explained Ron Luce said. "He had been trained and checked out on this plane. He had flown this plane a number of times, and was very well-versed on it."