Mile High Meltdown JetBlue Pilot Charged, Faces 20 Years In Prison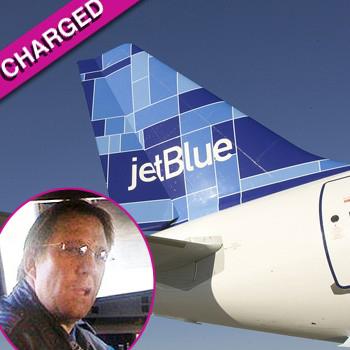 Article continues below advertisement
As RadarOnline.com previously reported, Osbon's panic attack on Flight 191 led authorities to divert the JFK-Las Vegas flight to Amarillo, Texas following the captain's hysterics.
On Wednesday, JetBlue spokeswoman Tamara Young announced that the 12-year veteran of the airline had been taken off active duty without pay pending an investigation. Osbon is currently receiving medical treatment at an undisclosed location.
If convicted, Osbon faces a maximum of 20 years in prison and a $250,000 fine. The U.S. Attorney's office has 30 days to present the matter to a grand jury for indictment.
A two-page affidavit in support of an arrest warrant detailed the hours preceding the flight's departure at 7:28 a.m. during which Osbon missed the crew briefing but initially "did not exhibit any bizarre behavior," revealed FBI Special Agent John Whitworth.
Article continues below advertisement
However, as the plane was taking off, Osbon "said something to the FO (first officer) about being evaluated by someone," but the first officer was not sure what Osbon meant. He went to talk about his church and needing to "focus," then asked the first officer to take over the controls and the radio.
From then on things spiraled more out of control as the troubled pilot said, "Things just don't matter," talked about sins in Las Vegas, and at one point said, "We're not going to Vegas."
Around 3.5 hours into the five-hour flight, Osbon left the cockpit to use the lavatory, but he failed to follow security protocol, alarming the crew. He then banged on the lavatory door and told the female passenger inside that he needed to go to the bathroom.
By that time, the first officer had summoned another JetBlue pilot who had been traveling as a passenger to enter the cockpit and the two locked themselves inside, according to CNN.
Article continues below advertisement
The infuriated captain began banging on the cockpit door, prompting his alarmed crew to make an announcement over the PA requesting passengers to restrain him. One alarmed traveler overheard Osbon ranting "Pray f***ing now for Jesus Christ" and mumbled bombs, September 11, Iraq, Iran and terrorists.
During an amateur video of the in-flight drama, he can be heard shouting: "Oh my God. I'm so distraught! We've got Israel, we've got Iraq, we've got Israel, we've got Iraq! We've got to get down!"
He was eventually subdued and wrestled to the ground by six to eight large men, and then restrained while the plane made an emergency landing and a virtual SWAT team of police arrested him on the tarmac.
In an exclusive interview with RadarOnline.com Osbon's landlady in Queens, New York, Wanda Serra, revealed: "I can't say enough good things about him, he was a happy-go-lucky man.
"I have experienced nothing but the best from him. He lived in my house for 11 years (while he was working) and nothing like that has ever happened to him before. Nothing bad has ever happened to him, he was the greatest young man," his elderly woman went on to tell RadarOnline.com.