Seven Things You Didn't Know About JetBlue Captain Clayton Osbon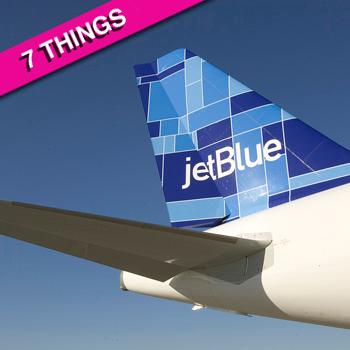 By Amber Goodhand - RadarOnline.com News Editor
JetBlue Captain Clayton F. Osbon made headlines on Tuesday after he suffered an in-flight meltdown and was tackled to the ground and put in a chokehold by a passenger.
According to ABC News, Osbon "began acting erratically, flipping switches in the cockpit and appearing confused," screaming things about Iraq, Iran, bombs and Al Qaeda.
Now RadarOnline.com is bringing you seven things you didn't know about the 49-year-old professional pilot:
Article continues below advertisement
7. Osbon is originally from Milwaukee, Wisconsin, and now lives in Richmond Hill, Georgia with his wife Connye.
6. A Flight Standards Captain for JetBlue since 2000, Osbon specialized in pilot recruitment, company resource development and leadership development, but also spent his time working as a Director for Body by Vi -- a wellness and fitness company devoted to helping people better their life through health and financial prosperity.
5. Osbon obtained two Bachelor of Science degrees in the 1980s; one in Physics from Carnegie Mellon University and one in Aeronautical Physics from Hawthorne College.
4. Osbon is affiliated and is the member of many groups including the Sigma Alpha Epsilon Fraternity, the National Rifle Association, the Aircraft Owners and Pilot Associations, the Experimental Aircraft Association and the Georgia Sheriffs Association.
Article continues below advertisement
3. Before becoming a pilot with JetBlue, Osbon flew the Gulfstream IV for Net Jets all over the world. "Gulfstream pilots are very proud to fly Gulfstreams," Osbon once said in an interview. "It's fun to fly. If you're going to finish your career or get to the top of the ladder as a corporate pilot, Gulfstream would be one of those plateaus. You'd say to yourself, 'I've arrived.'"
2. Osbon aspired to be a motivational speaker one day. "It starts with a greater enhanced knowledge of one's being...you know, I'd like to think the world is more than just getting up in the morning, making a cup of coffee, going to work, coming home, kissing your wife goodnight and going to bed," he said.
1. His father was an electrical engineer who sparked Osbon's interest in flying when he was six or seven years old as his dad had an airplane he used for business. "I've been instrument flying since before I could see over the dashboard -- sitting on phonebooks eventually," he said. "I didn't even know I wanted to do it for a living until the end of my sophomore year in college."
Passenger David Gonzalez was the first to tackle Osbon on Flight 191 from New York to Las Vegas on Tuesday after he asked him what was going on and the pilot replied, "You'd better start praying right now!"
Article continues below advertisement