JetBlue Pilot Put In Choke Hold By Passenger During Mile High Meltdown!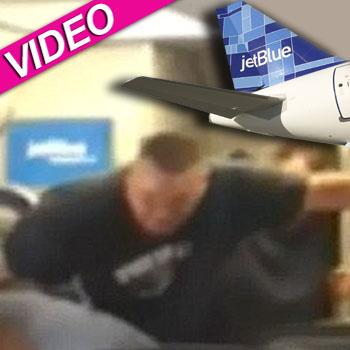 By Debbie Emery - RadarOnline.com Reporter
Even in the most dire circumstances pilots are trained to keep their cool, but it was an unsuspecting passenger who had to take control when a JetBlue captain went beserk in the middle of a flight on Tuesday.
The pilot "exhibited erratic behavior," according to a TSA statement, when he began ranting about bombs "Iraq, al-Qaeda, and terrorism," and struck fear into the hearts of the 135 passengers on board.
Article continues below advertisement
David Gonzalez, 50, was sitting in the second row of Flight 191 from JFK to Las Vegas when he spotted the captain storming out of the cockpit and towards an occupied bathroom, reported ABCNews.com. Then the co-pilot locked the door behind his superior, prompting him to completely spiral out of control.
"We got to get this plane down, this guy is nuts." Gonzalez said he remembered thinking.
Flight attendants struggled to control their manic manager, as Pennsylvania native Gonzalez, who used to work for the New York City Department of Corrections and was on his way to Las Vegas for an annual security show, saw him edging towards the emergency exit door.
"I just didn't want him opening up that door," he said. "I knew if he got in there, we wouldn't be sitting here now."
When he asked the unnamed pilot what his problem was, the strange reply was: "You'd better start praying right now," followed by shouting about Iraq and Iran.
"I said, 'I'm going to show you Iraq and Iran right now,' and I just took him in a choke hold," revealed Gonzalez. "I started to cut his windpipe off so he couldn't get any air."
Article continues below advertisement
Fortunately, the flight risk passed out three minutes later and was restrained until the plane – flown by the co-pilot and an off-duty JetBlue pilot who took over the duties of the crazed crewmember - made an emergency landing at Rick Husband Amarillo International Airport in Texas, where he was met by a virtual SWAT team of police who swarmed the vehicle.
The captain is now in FBI custody, while Gonzalez is being dubbed a hero.
"It's amazing how people thanked me," said the married father of five. "I don't find myself a hero. I just couldn't take that. I got that spark. I knew I had to get involved."
Watch video of the frightening ordeal below:
Taylor Armstrong Likely Not To Press Charges Against Death Threats Teenager