NEW DETAILS: JetBlue Flight Attendant Faces Up To 7 Years In Jail In Bizarre Incident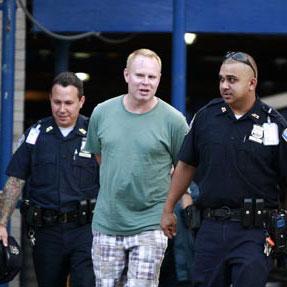 A JetBlue flight attendant faces up to seven years behind bars after was he was charged with reckless endangerment and other offenses, after admittedly opening an emergency exit door, deploying an inflatable emergency exit slide and sliding off a plane after it had landed following a run-in with a passenger.
The flight attendant, 38-year-old Steve Slater appeared in a New York City courtroom Tuesday morning. He is charged with first- and second-degree reckless endangerment, second- and fourth-degree criminal mischief, and third-degree criminal trespass in connection with Monday's incident, RadarOnline.com has learned. He was ordered to be held on $2,500 bail.
Article continues below advertisement
COURT DOCUMENT: Criminal Complaint Against Steve Slater
"The emergency chute deploys at 3,000 pounds per-square inch within seconds, and could easily injure or kill ground crews or others on the tarmac who are unaware the chute has been activated," Queens District Attorney Richard A. Brown said Tuesday in a statement to RadarOnline.com.
Brown said Tuesday's hearing "would have been a far different arraignment if someone had been standing under the emergency chute when it deployed."
As RadarOnline.com previously reported, the incident started after JetBlue Flight 1052, traveling from Pittsburgh-to-New York, landed at New York's JFK airport, when a passenger prematurely stood up and collected his bags from an overhead compartment.
VIDEO: Flight Attendant Loses It - Curses Passengers & Exits Plane Via Slide
Slater told the passenger to stop what he was doing, and the two exchanged heated words before one of the bags came loose and bopped Slater on the head. Slater asked the passenger to apologize, but the passenger refused.
Article continues below advertisement
Slater then grabbed the plane's PA system and shouted: "To the expletive who just told me to expletive off, its been a good 28 years!"
Slater then activated the inflatable evacuation slide, authorities said, swiped a beer from the plane's alcohol cart and scurried off through the airfield to the employee parking lot, where he found his car and drove back to his Queens, New York home.
Port Authority of New York and New Jersey police took Slater into custody later Monday. According to the DA, Slater admitted to authorities he'd activated the slide, and trespassed on the aeronautical area until he was able to exit to the street area.
Slater is due back in court September 7.