Exclusive
FBI Detains Passenger After Plane Diverted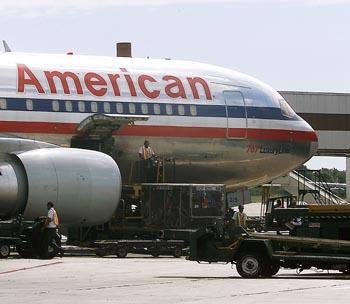 An American Airlines flight New York to Los Angeles was diverted to New Mexico on Wednesday and a passenger detained by law enforcement after smoke and an odor were detected on the plane, a passenger told RadarOnline.com exclusively.
RadarOnline.com confirmed that the FBI and the TSA as well as local Albuquerque law enforcement are involved.
American Airlines described the incident to RadarOnline.com as a "suspicious action" by the passenger. It happened on flight 117 from JFK to Los Angeles International airport.
Article continues below advertisement
The FBI said there was no threat of a bomb but would not reveal why the passenger was taken off the plane and detained.
Another passenger on the plane told RadarOnline.com that it was a bomb scare — a claim the FBI has denied.
A flight attendant reportedly smelled smoke coming from a lavatory.
"Due to a suspicious action by a passenger and as a precautionary measure, the pilot decided to divert the aircraft to the closest airport which was Albuquerque," Billy Sanez, a spokesperson for American Airlines, told RadarOnline.com.
"Local authorities apprehended one male passenger and that male passenger is under questioning."
One report said the passenger was smoking.
Sanez said TSA investigations were doing their "due diligence" to sweep the plane and have it returned it is normal flight path to Los Angeles.
168 passengers were on board the Boeing 767 plane, along with a crew of 11.
"The incident was suspicious enough to cause a diversion," Sanez said.