JetBlue Pilot Suffered Panic Attack During In-Flight Meltdown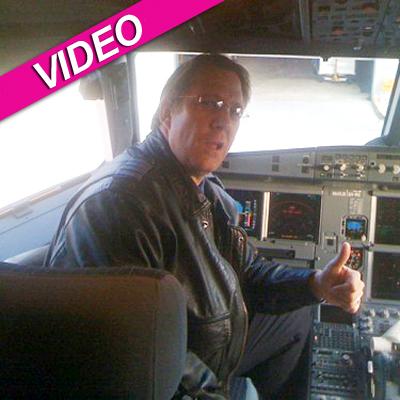 JetBlue pilot Clayton Osbon, whose in-flight meltdown Tuesday caused his co-pilot to lock him out of the cockpit and passengers to restrain him, had a panic attack during the New York-to-Las Vegas trek, law officials said Wednesday.
Osbon's panic attack on Flight 191 led authorities to divert the flight containing 131 passengers and six crew members to Amarillo, Texas following the captain's hysterics.
Article continues below advertisement
Wayne Honlnes said Osbon "just went berserk. He came out of the other end of the plane … came running back to the cockpit and he was shouting out these numbers … 500 something. He started banging on the cockpit door."
Watch the video on RadarOnline.com
Passenger Don Davis said that "nobody knew what to do because he is the captain of the plane ... you're not just going to jump up and attack the captain."
Article continues below advertisement
The situation was controlled after his co-pilot tricked Osbon out of the cockpit and locked him out; and a Pennsylvania native named David Gonzalez restrained Osbon after he saw him veer toward the emergency exit, rambling on about Al Qaeda, Iraq, a bomb and saying the plane was set to crash.
Gonzalez said when he asked Osbon what the matter was, the pilot told him, "You'd better start praying right now!"
Gonzalez said he "was actually the one that took him down" and engaged in a struggle until he and other passengers were able to restrain the troubled pilot, tying him up with their belts.
"He was pinned against the door. I was afraid he was going to knock down the door … I just didn't want him opening up that door. I knew if he got in there, we wouldn't be sitting here now."
Osbon is currently in FBI custody under medical observation following the incident.