Demi Lovato Admits To Trashing Dressing Rooms: 'Just For The Hell Of It'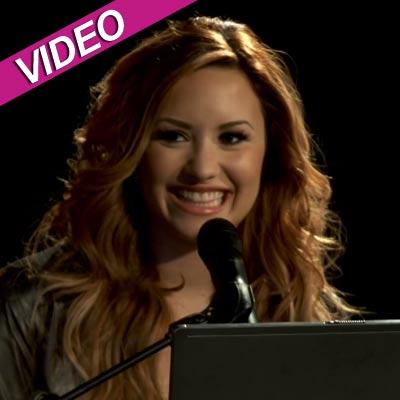 By Amber Goodhand - RadarOnline.com Reporter
Former Disney star Demi Lovato admits to trashing dressing rooms, throwing things around because she's "bored," and RadarOnline.com has the interview.
The 19-year-old did an interview with New York City's Z100 in which she said once backstage at her shows she has trashed her dressing room "just for the hell of it."
"I break things. I've trashed dressing rooms just for the hell of it. I like to throw things when I'm bored. I was trying to catch the deli meat on the ceiling... it ended up turning into kind of a food fight!" Demi said.
Article continues below advertisement
"I've done some pretty rock and roll things that I probably shouldn't talk about."
But talking, she is! The Sonny with a Chance star recently opened up about her stint in rehab and struggles with an eating disorder and cutting herself.
"It was called a mess. I don't know what to really call it but yeah, I've called it a breakdown, a meltdown," she told Ellen DeGeneres.
"I went from being at the highlight of my career, having a movie about to come out or just come out and being on this tour. Having so much success. So many things were going great in my life and then all of the sudden my personal life just went down at crazy speeds."
Demi told Z100 she felt like a Kardashian while filming her new documentary, Demi Lovato: Stay Strong, which premiered on MTV this week.
"I cannot tell you that I have not thrown up since treatment," Demi confessed in the documentary, talking about her past struggle with bulimia.
"I cannot tell you that I have not cut myself since treatment. I'm not perfect. This is a daily battle that I will face for the rest of my life."