Seven Things You Didn't Know About KONY Mastermind Jason Russell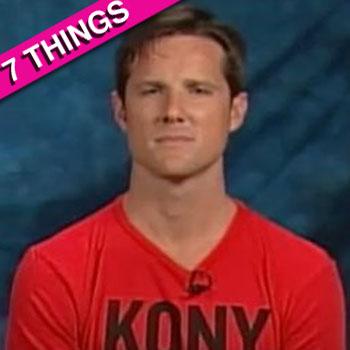 On the surface, it seems like the same ol' story: success morphs into scandal at light speed.
But there's a lot more to this success story -- Jason Russell, the Southern California filmmaker whose thrill of victory in his uber-viral video KONY 2012 turned into the agony of defeat in record time, as an online video surfaced shortly thereafter, showing him running naked down a San Diego street in a frenzy, allegedly performing a sex act on himself, prior to being arrested.
Article continues below advertisement
Jason Russell's Wife Denies Substance Abuse Caused KONY 2012 Filmmaker's Public Breakdown
Humanitarian? Head case? Both?
There's certainly many outstanding questions about this fellow. With that, we take a closer look at the man of the hour, with seven things you didn't know about Invisible Children founder Jason Russell.
7. His influences range all over the spectrum: Russell's social consciousness and technical aptitude are acutely reflected in the list of names he dubs as his role models: Oprah, Bono, Steven Spielberg, Walt Disney, Steve Jobs, Baz Luhrmann and Dan Eldon.
6. He's near six figures: The best-paid worker at Invisible Children, Russell pulls in $89,669 a year as its leader -- almost three times the $26,364 estimated median income, per Reuters.
5. He's a Trojan, through and through: Russell is an alumni of the prestigious film school at the University of Southern California, as he graduated the institution with a degree in cinema production.
4. ... But seemingly wilting in the spotlight: After his arrest following the embarrassing incident in San Diego, doctors diagnosed the 33-year-old with "brief reactive psychosis," a condition his family says was triggered by the unprecedented attention -- and some criticism -- over the KONY video.
Article continues below advertisement
3. He's used to attention: The son of Christian Youth Theater, Russell, a devout Evangelical Christian, performed in many productions as a child before his passions spread behind the camera as he grew older. At 13, he told the Los Angeles Times in a March 1992 interview that acting was his life's passion. "It was what everybody around me did. I didn't even think about it. I did my first show at 8, and I have done over 20 plays since. You can't do this if you don't like it. You have to commit yourself to it. When you get in front of people, you have to act like you know what you're doing. You can't be frightened or scared to go up there, volunteer, be the first one to do something."
2. He's made a loud noise and Hollywood's listened: With the viral appeal of KONY, Russell gained some high-profile sets of eyeballs on his videos and word of mouth -- especially celebrity mouth -- helped fuel, in part, the film's unprecedented popularity for a clip of its' length and topic matter. Among the rich and famous that have lauded his work are Kim Kardashian, Justin Bieber, Kristen Bell, and Rihanna.
Article continues below advertisement