Exclusive
Duggar Family Extortion: The 'Incriminating' Photos Revealed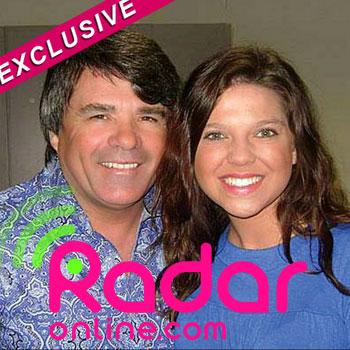 By Amber Goodhand - Radar Reporter
The Duggar family was at the center of an extortion scandal after a woman claimed Amy Duggar was having an affair with a man 21 years older than her, and now RadarOnline.com can exclusively reveal the photos she thought were worth $10,000.
Teresa Hunt was arrested and charged with extortion after she pitched what she deemed "incriminating and damning" photos of Amy and James Garrett engaged in a relationship together to various media outlets, including RadarOnline.com.
Article continues below advertisement
The woman then reached out to Discovery Communications, parent company of the network TLC, which airs the Duggar family's 19 Kids and Counting, to pay her $10,000 or cancel the family show to keep her from releasing the "shocking photos" of Amy, a first cousin of the family.
"As you can tell from the photos, they are anything but incriminating," James told RadarOnline.com in an exclusive interview.
"I wanted the world to see the photos so that there would be no question left in anyone's mind about any sort of relationship other than a platonic, working friendship between Amy and I."
James, 56, stars in a John Denver tribute show in Branson, Missouri, and although he and Amy spend a lot of time together he tells us it's strictly business related.
"On January 6 I got an urgent message from Amy Duggar, so I called her back and she explained that someone was trying to extort the Duggar family and the Discovery Channel for $10,000," James exclusively told RadarOnline.com.
"She went on to say that it involved racy photos of the two of us. We actually enjoyed a good laugh because we obviously knew they didn't exist! But it was still a bit unsettling to us though."
Article continues below advertisement
TLC's Duggars Open Up On Pain Of Miscarriage, Comment On Extortion Scheme