Exclusive
Jim Bob & Michelle Duggar: Rick Santorum Is The 'Man Of God' To Lead The Nation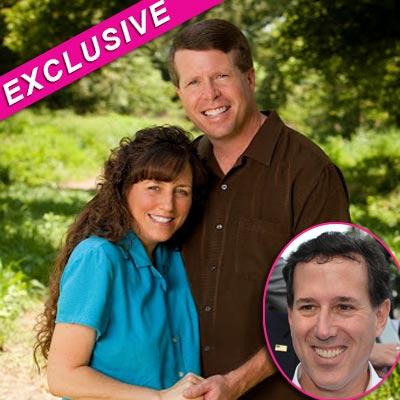 Article continues below advertisement
"We have been praying to the Lord that if you want the heart of the voters to turn to Rick Santorum then please do so," she said.
"We prayed that more people would take a look at him, and more people are getting behind him."
Jim Bob Duggar, the father of the family that stars in 19 Kids and Counting, said he was impressed with Santorum's tenacity throughout his career. "He has the backbone of steel and the heart of gold."
While stumping for the candidate they said that they've learned more about where he stands on issues.
"He's a family values candidate with a proven track record. He honors life and stands up for what is right."
The Duggar family has been on the campaign trail for Santorum, and even offered him a ride in their luxury van, but he declined and rides around in a pickup truck.
Jim Bob said he admired the way Santorum's managing his campaign.