Michelle Duggar's Tips For A Happy Marriage: 'Husbands Are Commanded To Govern Their Wives'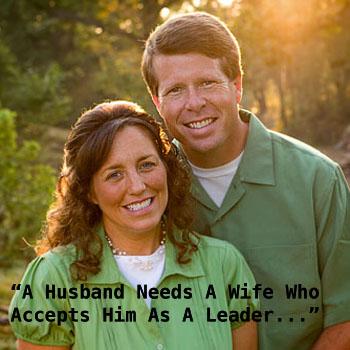 Article continues below advertisement
The 45-year-old wife of Jim Bob Duggar took to the stage at a conference, which aired in the season premiere of their reality show 19 Kids and Counting, where she spoke to other Christian women about her success story.
The deeply religious couple focus on their beliefs in each episode of the show, and Michelle used her faith to help try to lead other women into the same happy marriage she has.
Here are the highlights of her advice:
* A Husband Needs A Wife Who Accepts Him As A Leader And Believes In His God-Given Responsibilities": Husbands are commanded to govern their wives; God works through a man's decisions — good or bad; Bad decisions reveal his needs and allow the wife to appeal and demonstrate Godly character; The more a wife trusts her husband, the more careful he will be in giving her direction; Never ask others for counsel without your husband's approval; reassure your husband that you understand and believe that he is your God-given leader.
MORE ON:
19 Kids and Counting
Article continues below advertisement
* A husband needs a wife who will continue to develop inward and outward beauty: How can you become more of the wife of your husband's dreams?; discover and conform to your husband's real wishes; explain your hairstyle to others on the basis of your submission to your authority; separate your "rights" from your responsibilities.
* Ask your husband to define your responsibilities; Ask your husband to tell you when you have a resistant spirit; dispel a backbiting tongue by silence.