Michelle Duggar's Audio Message To Miscarried Baby, Jubilee: 'I Will Not Forget You'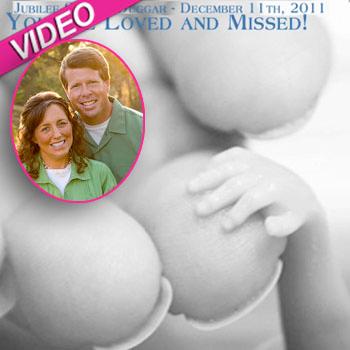 By Amber Goodhand - RadarOnline.com Reporter
Michelle and Jim Bob Duggar miscarried last month with what would have been their 21st child, and mom Michelle has since released an audio message to baby Jubilee Shalom that you can hear on RadarOnline.com.
In a message titled, You are Loved and Missed! Michelle reads aloud a nearly five-minute message to the daughter she lost in early December.
"Dear Jubilee, mommy wanted to write a letter to my precious baby girl. You know, your name Jubilee Shalom Duggar, means joyful celebration of peace. We were so thankful to God when we found out we were expecting you," Michelle says.
Article continues below advertisement
"So often in society babies are looked upon as a problem, trial or responsibility, but God says babies are a blessing. We do not believe that babies are a bother, a headache, or a financial drainer or a career interrupter…we love babies!"
Michelle was five months pregnant when she miscarried (her second miscarriage) and their last child born, Josie, was five months premature -- and as RadarOnline.com first reported, was recently rushed to the hospital during a family pilgrimage to Israel.
"Your siblings did not view you as the competition. They are truly saddened and disappointed to not have really known you… You were not loved any less because you were baby number 21, or Duggar grandbaby number 23. We are blessed because you lived," Michelle said.
"I will miss listening to your heartbeat and praying for you as you grow in my womb. I will miss feeling you kick in my tummy. I will miss cradling you in my arms and singing to you… I will miss seeing life through your eyes, as I enjoy doing through all the other children so much. I will miss doing mommy things with you and for you."
Article continues below advertisement
Earlier this month Jim Bob spoke out on the loss of Jubilee saying, "We won't be able to see this child's life and the phases that we've seen for our other children, but we know we will see this child in heaven one day. We are thankful for each child, and we are blessed to have the children we have here and the ones we will meet someday in heaven."
"You're a love I was able to touch for such a short few moments and a life I will hold in my heart… Your short life will help me to remember truly how fragile life is. It will help me to more fully enjoy the time I have here with the other family members," Michelle concluded in the open letter to Jubilee.
"I will not forget you. I will look forward to meeting you someday. I'm going to frame your birthdate and meaning of your name with all your siblings pictures on our baby wall. From now on when I'm asked how many children I have, the answer will be 21; 19 here, and two in heaven. You are precious to me Jubilee. Mommy loves you."
Listen to Michelle's message to Jubilee below: