Exclusive
Woman Trying To Extort Duggar Family Busted In FBI Sting!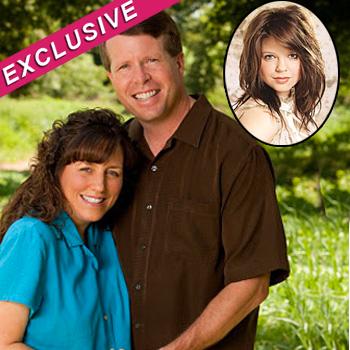 By Alexis Tereszcuk - RadarOnline.com Senior Reporter
A woman who tried to extort the company that airs the Duggar family reality show was busted by an FBI sting and RadarOnline.com has exclusive details about the situation.
Teresa Hunt was arrested and is facing federal charges of extortion after allegedly trying to get Discovery Communications, parent company of the network TLC that airs the Duggar family's 19 Kids and Counting, to pay her $10,000 or cancel the Duggar family show to keep her from releasing what she claimed were shocking photos of Amy Duggar, a first cousin of the family.
Article continues below advertisement
The woman contacted RadarOnline.com to sell the photographs, which were merely harmless snaps rather than incriminating, damning photos, and we reviewed the pictures but did not purchase them. RadarOnline.com had no knowledge that the woman was trying to extort TLC.
The deeply religious Michelle and Jim Bob Duggar chronicle their family's lives on the TLC show, and their 19 children are often shown with cousin Amy.
An affidavit in court records said that Hunt sent a letter to Discovery Communications on January 4 stating that she had scandalous pictures of Amy Duggar with a much older musician and said they had even had sex in motel rooms.
The affidavit says Hunt demanded that the company either give her $10,000 to not release the pictures or cancel the show. The letter allegedly says "The (redacted) claim to be so Christian so they keep popping out babies to keep their ratings up. Meanwhile, (redacted) and (redacted) are doing the nasty behind closed doors."
Article continues below advertisement
An undercover FBI agent contacted Hunt on January 20 and told her he was a Discovery Communications representative and she allegedly told the agent that she had three $3,000 contracts from outlets who were interested in purchasing the pictures. Hunt allegedly emailed the pictures to the agent as proof and then demanded the $10,000 be wired to her bank account or she would release the photos.
RadarOnline.com obtained a statement from Amy Duggar and she vehemently denies the woman's claims about her relationship with the musician. "It's totally untrue. He is a longtime family friend who has always been supportive of my music career. He's a good Christian and it's upsetting that his generosity has been exploited like this."