Exclusive
Mile High Meltdown JetBlue Pilot 'Was A Happy-Go-Lucky Man,' Says His Devastated Landlady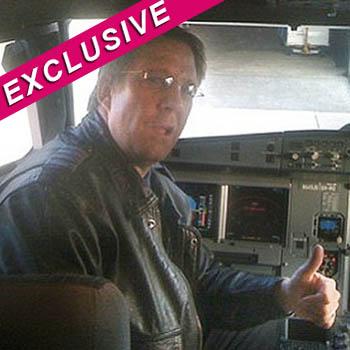 By Debbie Emery - RadarOnline.com Reporter
JetBlue pilot Clayton Osbon put the lives of 131 passengers and six crew members at risk when he had a mid-air meltdown Tuesday, but RadarOnline.com can exclusively reveal that those who knew him say that his crazed rant was completely unexpected.
"He was the greatest man I know, I don't know what happened to him," his landlady Wanda Serra told RadarOnline.com in an exclusive interview. "What is wrong with the world when something like this can happen to a top pilot?" she asked.
Article continues below advertisement
"I can't say enough good things about him, he was a happy-go-lucky man."
As RadarOnline.com previously reported, Osbon's panic attack on Flight 191 led authorities to divert the JFK-Las Vegas flight to Amarillo, Texas following the captain's hysterics.
On Wednesday, JetBlue spokeswoman Tamara Young announced that the 12-year veteran of the airline had been taken off active duty without pay pending an investigation. Osbon is currently receiving medical treatment at an undisclosed location.
Originally from Wisconsin, the 49-year-old rented an apartment from Serra in Queens, New York while he was working and flying out from JFK airport. When off-duty, he lived with his wife, Connye, a licensed massage therapist, in Richmond Hill, Georgia with their one child. "He didn't speak to me when he was on the job, he stayed here when he was flying," revealed Serra.
"I have experienced nothing but the best from him. He lived in my house for 11 years and nothing like that has ever happened to him before. Nothing bad has ever happened to him, he was the greatest young man," his elderly landlady went on to tell RadarOnline.com.
Article continues below advertisement
"He played football with my nephews, he was part of my family. They were all New York Giants fans and loved throwing a ball around.
"He was aces in the air. He barely drank, never anything more than a beer. There was no drinking, no smoking, no women. I never had a problem with him and if I had he wouldn't have lasted 11 years!" explained Serra. "I don't put up with any nonsense."
The idyllic image that his friend paints is a far cry from the deranged erratic man who ranted about bombs "Iraq, al-Qaeda, and terrorism," and had to be put in a headlock by a passenger who feared he was going to open the emergency exit and kill them all, reported RadarOnline.com.
Passenger David Gonzalez was the first to tackle Osbon on Flight 191 after he asked him what was going on and the pilot replied, 'You'd better start praying right now!'
"He was pinned against the door. I was afraid he was going to knock down the door," Gonzalez said.
However, those who knew Osbon in his second home in Queens knew him as mild-mannered and polite.
"Everyone in the neighborhood loved him. I have had a lot of pilots living with me over the years, they are like my kids, my flying boys. I am sure everyone who knew him would be shocked," said Serra.
Article continues below advertisement