Seven Die In Horrific SUV Crash At Bronx Zoo, Firefighters Describe The 'Carnage'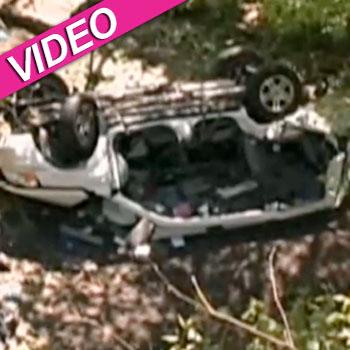 A horrific car crash has left three generations dead after a SUV flipped over a guardrail and plummeted 50 feet into the grounds of the Bronx Zoo Sunday.
The van was said by police to be traveling "at a high rate of speed" southbound in the left lane on the Bronx River Parkway when it hit the median, then flew through all the lanes of traffic and plunged into a heavily wooded area of the zoo that is closed to the public and doesn't contain animals, reported the New York Post.
Article continues below advertisement
From grandparents to young children, the victims of the crash were indentified as driver Maria Gonzalez, 45; adult passengers Maria Nunez, 39, Jacob Nunez, 85, and Ana Julia Martinez, 81; and children Jocelyn Gonzalez, 10, Neely Rosario, 7, and Marly Rosario, 3.
On Monday, grieving relative Juan Ramon Rosario, who lost his wife, two daughters and sister-in-law in the tragic accident, shared his devastation through an interpreter, "He can't think, he can't feel. ... It's like death," reported ABCNews.com.
The horrific accident chilled even the experienced NYC firefighters who discovered the smashed and twisted SUV lying upside down. "It's terrible, just carnage. The passengers didn't stand a chance," an FDNY source at the scene told The Post.
"I've been in the fire department 30 years, sometimes you come upon events that are horrific and this was one of them," explained FDNY Deputy Chief Ronald Werner. "You see young kids hurt or lose their life it's always harder than when you find someone in an older age. It affects all our units."
According to zoo officials, the spot that the car landed was fortunately so secluded that visitors enjoying a fun day out at the zoo were spared the grisly scene.
RELATED STORIES: